Past Event
Saturday, November 24, 2007, 2:30 p.m. to 4:30 p.m.
Off the Beaten Path, 68 Ninth St. , Steamboat Springs
All ages / Free
Photo Gallery
Rod Hanna photographs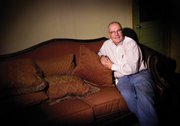 Steamboat Springs — Editor's note: Steamboat Pilot & Today reporter Tom Ross wrote the text for "Seasons of Light."
Ask local photographer Rod Hanna why he takes photos of the Yampa Valley, and he says:
"It's kind of like they say, 'Why do you climb a mountain?' - because it's there," he said. "If you have a background in art or photography and you come here to live, you're compelled. The light here is so special, and over time as you go through the seasons, you see that.
"I just needed to go out and photograph it."
Hanna's new book, "Seasons of Light: Impressions of Steamboat Springs and the Yampa Valley," captures that natural splendor through all four seasons and his three decades living in Steamboat Springs. Hanna, who is a board member for the Steamboat Art Museum and shows his work in galleries across town, will sign copies of the book from 2:30 to 4:30 p.m. Saturday at Off the Beaten Path Bookstore.
"When I thought about doing a book, this is the kind of book that I wanted to do - all about the beauty of where we live," Hanna said.
It's been about a year since Hanna decided he had the contacts and financial comfort to put his work in a book. But some of the photos on its pages date back more than 30 years, to the time Hanna arrived in the Yampa Valley in 1975 to market the ski area.
"Photography then was kind of on the back burner," Hanna said. "So as I had time on weekends, I continued to take photographs just because they were there. It was such a beautiful place that I just went out and did that for personal satisfaction."
Before that, he spent 12 years as a photojournalist and freelance photographer, including a stint with the Kansas City Chiefs and jobs at two newspapers. His first job was writing obituaries at the Davenport Times-Democrat in Iowa (now the Quad-City Times). From the late 1970s until 1990 he took photos for the Denver Broncos.
When he retired from his job with Steamboat Ski and Resort Corp. in 2000, Hanna started focusing on taking photos he could show and sell in galleries. In the past 18 months, he found enough interest for a printed collection of his work that he decided to put something together.
Fellow Steamboat Springs photographer Jim Steinberg - whose book "Colorado Less Traveled: Journeys Off the Beaten Path" came out in 2005 - helped Hanna out with a publishing timeline, finding a designer, and contacts for book buyers and sellers.
"I think that everyone who thinks about self-publishing a book thinks, 'Oh, this is going to be a nightmare,'" Hanna said. "I had a lot of really good advice from people who made it a lot easier."
It doesn't hurt that Hanna has 25 years of marketing experience and training in media. He also has some background in what to look for in photos that are meant to be bought and sold. In the late 1970s and early '80s, Hanna owned and operated a gallery in town called Last Thing Impressions.
In the book's foreword, sportscaster and Steamboat Springs resident Verne Lundquist - who Hanna refers to as a longtime friend and said is the only person in town he knows of who's on national television every week - points out the artist's versatile experiences.
"There is no one more qualified to capture the magic of this place than he is," Lundquist writes.
Hanna said he hopes to use that knowledge of gallery works and the color-rich photos in "Seasons of Light" to bring attention to the qualities this area presents for artists.
"It just seems to me that Steamboat Springs and the Yampa Valley - and this is starting to change - are underappreciated as a special place where the light is unique," Hanna said.
"I don't think it has a reputation yet for that, and maybe this book will help to change that perception."