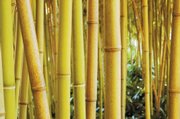 For more
There are more than a dozen other species of bamboo that can handle temperatures as low as 10 degrees below zero - if you have a microclimate, perhaps close to your home where some heat may radiate to outdoor spaces. The Web site www.americanbambo... offers a long list of species that are cold-hardy.
A few years ago, the Routt County Cooperative Extension Service Office received a call from a new resident asking if bamboo would grow here. At the time, it was one of the more humorous questions the office had received because Steamboat isn't known for its tropical climate, which is where bamboo generally is found.
However, with the popularity of the cut stalks of "lucky bamboo" (also known as Medusa bamboo) that is found in flower shops and garden centers around town, interest is high in this beautiful plant.
Growing a bamboo shoot indoors is pretty simple. All you need is a stem and some water in a container with stones or marbles to anchor it. Bamboo grows pretty slowly, from 1 to 6 inches a year, so it doesn't need fertilizer - just fresh water covering about an inch of the stalk. Once a mass of roots have appeared, you may pot the bamboo plant in soil and place it almost anywhere in your home.
If you're interested in a bamboo plant for the outdoor patio or garden, there are a few cold-hardy species that can handle our Zone 4 environment. Among them are the tall Phyllostachys aureosulcata (golden groove bamboo) and Phyllostachys bissetii (David Bisset bamboo).
If you have a protected area - preferably on the south side of your home with a windbreak, Fargesia murieliae, commonly known as umbrella bamboo, is a clumping, medium size Zone 5 bamboo with beautiful arching canes that turn yellow after emerging green. It grows at elevations as high as 10,000 feet and, in Asia, is a favorite food of the panda. F. Nitida is commonly known as fountain bamboo and is a delicate, slow-growing plant that sports a bluish-white powder on the dark purple stems, or culms. Another medium-sized bamboo that does well in northern climates is Phyllostatchys nuda, with culms that are thick enough to be used for table and chair legs. The culms are colored a dark green and dusted with a white powder. All these plants prefer moist, well-drained soil.
Small bamboos that may be used as border plants or ground cover include Pleioblastus variegatus (dwarf white stripe bamboo), a beautiful green and white variegated plant; Pleioblastus distichus (dwarf fernleaf bamboo); and Pleioblastus viridi-striatus with chartreuse/golden foliage.
If you choose to grow bamboo here in the mountains, you can expect die-back each fall/winter, similar to what we experience with most perennials. Bamboo should be heavily mulched, and for the taller varieties, the canes should be bent and secured to the ground with a wire or bamboo hoop so that it can catch snow and remained covered through the winter.
For gardeners in warmer, moister climates than Steamboat, bamboo can become a garden problem. However, in our dry climate with its temperature extremes, chances are it'll be a challenge just to get normal growth patterns.
So, if you're looking to bring a little Feng Shui to your home or garden area, bamboo might be the thicket for you.
Deb Babcock is a Master Gardener through the Colorado State University Cooperative Extension Service Office in Routt County. Questions? Call 879-0825 or e-mail gardeners@co.routt.co.us.