Giving honors
Routt County 4-H honored a number of its outstanding members at the ceremony, including:
Outstanding Club - Handy Lads and Lassies (first place), Goodtimes (second place) and High Point (third place)
Outstanding Junior Members - Jessica Rossi and Mackenzie Holmberg
Outstanding Intermediate Members - Mallory Hoots and Jaelyn Whaley
Outstanding Senior Members - Sarajane Rossi and Kelsey Samuelson
Outstanding Volunteer - Lee Meyring
Friend of the 4-H - Mary Kutz, Karin Utterback-Norman, and John and Patty Kerst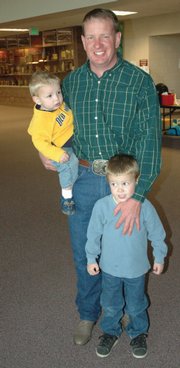 Routt County — Steamboat Springs veterinarian Lee Meyring has worked to develop youth interest in animal science for close to 15 years.
In that time, he has seen a number of the 4-H students he has worked with at Steamboat Veterinary Hospital go on to earn graduate degrees in veterinary science. On Sunday at the Routt County 4-H chapter's annual Achievement Day, Meyring was recognized as an outstanding volunteer for the organization.
"My ultimate goal is to identify any of the kids that are really interested in becoming vets," Meyring said, so those students can stay on track through school and ensure a future in the profession.
"When they get up to college, they can have the experience to get through the veterinary program," he said.
Students volunteer at Meyring's clinic from 6 to 9 p.m. Mondays, April through July. Jay Whaley, who runs the county's 4-H program, said Meyring's participation goes beyond the chapter's regular projects.
"What he teaches them affects their careers," Whaley said.
Sunday's awards ceremony and potluck lunch covered almost everything the organization does throughout the year, said Routt County extension agent Karen Massey.
The recognition included 4-H members, volunteers and supporters, as well as four families that have continually operated ranches in Routt County for at least 100 years. The Stanko and Monger family properties were designated as Colorado Centennial Farms in August. Saddle Pocket Ranch and the Appel Farm were recognized Sunday.