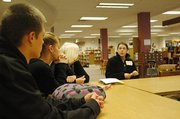 Steamboat Springs — In Gayle Dudley's perfect world, Steamboat Springs High School seniors would turn in their college applications well before Thanksgiving. But in reality, the high school's career and college adviser knows there will be a flurry of last-minute, panic-stricken students popping into her office this week.
"It happens every year that some kids are rushing in to schedule an appointment with me," she said.
Dudley asks students to turn their application packets into her office so she can make sure all needed materials, such as transcripts, essays and letters of recommendation, are submitted.
"I have folders on each kid," said Dudley, who noted that about 70 percent of Steamboat seniors in the class of 2007 went to four-year schools, and an additional 18 percent of seniors went to two-year schools.
"If they get a letter of recommendation, I drop it in their folder," she said. "Also, at (the University of Colorado), you have to pay by check, so we try to put that all together in one packet and send it out so it gets to the school all at one time."
Despite Dudley's plea to quickly complete the application process, many students are continuing to seek out more information on potential schools.
Rocky Mountain College representative Sherry Bruner visited the high school Thursday and met with four students.
"You can't judge a book by its cover, and you can't judge a college by its brochure," she advised the students. "You definitely need to get on campus and visit it. You can love a campus on the brochure, but then you may get on campus and absolutely hate it."
Weighing options
Senior Miranda Schrock has applied to two schools and plans on applying to three more.
"I think the area is really important," Schrock said. "And I'm looking for schools to play both soccer and hockey at, whether it's club or varsity."
Early admission deadlines have largely passed, Dudley said, but students seeing a January or February due date need to be diligent in completing their applications soon, and planning visits to their schools of choice.
"The University of Colorado and the University of Denver applications are due Jan. 15," she said. "By the time we get to January, we are starting to look at financial aid. It's important to get your things in because a student has to be admitted to apply for financial aid."
Seniors Rachel Ivancie, who has applied to three schools, and Tyler Ostrom, who has applied to two, stopped by to meet Bruner.
"I'm just seeing some more options about applying for two or three more," Ostrom said.
"More schools? That's the question," Ivancie joked. "I'll probably have three more -we'll see."
Senior Alison Harris said she hasn't completed any applications, but two are half-done.
"I've got about nine schools I'm looking at, but I have no idea how to narrow it down," she said. Harris told Bruner that her college should have a shuttle to pick up students for college visits.
Dudley advised Harris to visit as many schools as possible, find one with a dorm and keep things personal.
"This is my quote for the year here: 'College is a match to be made, not a prize to be won,'" Dudley said.
Things have changed
Dudley said the biggest change in the college application process during the past decade is not the ability to apply online, but the increased selectivity of schools - from the Ivy League to state universities.
"I've been working with freshmen, sophomores and juniors on selective colleges because they really have to plan ahead," she said. "One of the things that I try to get them to look at is that they may be the best in Steamboat, but you are not competing against Steamboat kids. You are competing nationally."
Dudley noted that 10 or 15 years ago, students would rely on Colorado State University or CU as backup schools. But those days are over.
"That cannot be their plan anymore," she said. "Every year, I have kids who can't believe they get turned down by these schools, but, yeah, it happens."
Criteria weighed by colleges also have changed in the past decade, Dudley said.
"What has really become more important is that college admissions representatives have really said, in the past four years, that the rigor of your academic schedule - especially your senior year - is really important," she said. "There is no option to slack off their senior year."
When it comes to extracurricular activities, Dudley said, more is not always better.
"They don't want a kid who is a 'joiner,'" she said. "I had a kid last year whose resume was four pages long. Give me a break - no one is going to look at that. They would rather you pick one or two activities and show some leadership in that."
Dudley equated preparing for college to preparing for a final high school playoff game.
"You wouldn't take a couple months off first to rest," she said. "You would keep working at the hardest you can, and that's what colleges are expecting."