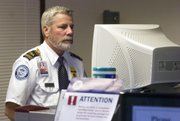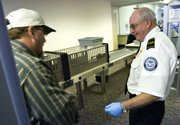 If you go
What: Public hearing about Routt County's proposed 2008 Budget
When: 5 to 8 p.m. Tuesday
Where: Commissioners' Hearing Room, Routt County Courthouse Annex, 136 Sixth St.
Contact: County offices at 879-0108
Steamboat Springs — Despite an expected 19 percent increase in revenues - and spending that will exceed those revenues - Routt County will struggle to meet anticipated needs next year, according to a proposed 2008 budget.
"Improved levels of service are not going to happen in capital and infrastructure," Routt County Finance Director Dan Strnad said Wednesday.
A packet detailing the proposed budget states "the county may not be able to provide an adequate level of service given the growth the county is experiencing" in sections regarding capital and infrastructure expenditures.
The proposed budget will be considered during a public hearing with the Routt County Board of Commissioners on Tuesday evening. Commissioners plan to adopt a final budget in December.
Routt County's expected revenue is projected to rise $9.8 million in 2008, to a total of $61.4 million, but Strnad said energy prices, equipment prices and other costs are rising even faster. For example, increases in the cost of asphalt have led to a 64 percent increase, between 2006 and 2008, in the average overlay cost per mile of road. Strnad said there is only one asphalt provider in Routt County.
The county is projected to spend $70.9 million next year, which would be an increase of $5.9 million, or 9 percent, from 2007. The county's projected spending is $9.4 million above projected revenues, contributing to an expected 3 percent reduction in county reserves, which would fall to $27.2 million.
Lost vote costly
The failure of a ballot measure that would have provided funding for 21 road and bridge infrastructure projects means most of those projects will not go forward. That ballot measure - Referendum 1A, which lost by more than 2,000 votes across the county - would have freed Routt County property taxes from a state statute that limits growth in county revenues. The assessed valuation of Routt County properties increased $276.2 million, or 35 percent, in 2007, to just more than $1 billion. But Routt County's base property tax increased only 6 percent due to the state statute known as the Taxpayers Bill of Rights.
While feeling the pinch in other areas, the county actually is looking at increasing the service of the Routt County Sheriff's Office. The 2008 proposed budget provides for requested staff increases that will allow Routt County Sheriff Gary Wall to achieve his goal of providing 24-hour, seven-days-a-week coverage.
"This county has not had 24-hour coverage for years and years," Wall said earlier this month. "I frankly think that's outrageous. I think that public safety in this county has been put on the back burner for years."
The Sheriff's Office currently has no patrol deputies on duty from 3 to 7 a.m.
"I'm very excited about it and I'm indebted to the commissioners for doing that," Wall said Friday. "If they approve that position, that's something the residents can thank them for."
'Unsettling' future
Another big player in the proposed 2008 budget is the Yampa Valley Regional Airport, which could see its staff increase by fewer than five "full-time equivalent" employees. The airport also will undertake a $3.8 million taxiway improvement, primarily funded by grants from the Federal Aviation Administration and "passenger facility charges."
Airport Manager Dave Ruppel said the taxiway project is experiencing the same difficulties as other county projects due to asphalt prices. While the taxiway repairs were originally planned to be comprehensive, Ruppel said they would now only address the "oldest, most deteriorated parts of runway." Ruppel said the rest of the project would have to be completed at another time.
"The majority of the pavement is in very good shape, so we felt very comfortable doing that," Ruppel said.
Other items in the airport's budget include $1 million in security upgrades, a new fire truck, and architectural and engineering work for Phase 3 of the airport's terminal expansion project.
Countywide, Strnad said the county also is starting to feel a pinch when it comes to personnel. Considering the county's high cost of living, Strnad said, "it's going to be difficult" to replace current county employees when they retire.
"They're making it work, but at some point they're going to retire," he said.
To keep health insurance costs from increasing beyond a manageable 10 percent, the county will have to increase deductibles, out-of-pocket maximums and employee contributions.
Overall, Strnad said he is comfortable with the county's financial position - for now.
"We're OK right now," Strnad said. "How long we can do that in the future, I don't know. With personnel, it will be interesting. It's an unsettling thought to see how we're going to make that work."
- To reach Brandon Gee, call 871-4210
or e-mail bgee@steamboatpilot.com