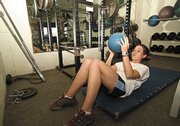 Steamboat Springs — The weirdest part was that the truck hit her on her left side.
But it was Katherine Ingalls' right side that took the brunt of the blow when the rear passenger-side tires of the '88 Kenworth semi-trailer rig hit her in late June on Routt County Road 129.
"I knew the semi was right there," Ingalls said. "My mom yelled, 'car back,' and I tried to go onto the shoulder and I hit the gravel and looked back. And then I felt the two back tires go over."
Ingalls' road bicycle detached from both her cycling shoes and flew over her head. She never saw the bike again.
"It didn't hurt. When you're riding you're going so fast the adrenaline's built up. I didn't really feel anything," she said.
The only thing Ingalls, 16, wanted to know when her mother Jeanne caught up, along the southbound lane of C.R. 129, was if her leg was broken - meaning a premature end to a promising cycling season.
It was June 29. Just six days prior, Ingalls won the junior expert women's division of the cross-country mountain bike race at the third Mountain States Cup event of the summer, affirming the Moots Cycles rider's No. 1 rank in the women's age division. Six days before that, it was the junior expert women's division of the cross-country race at a national-caliber event - the National Off-Road Bicycle Association (NORBA) National Mountain Bike Series events at Deer Valley Resort - where she took sixth.
"She just said, 'We'll have to wait to get to the hospital to find out,'" Ingalls said of her mother's reply.
Ingalls was going into shock. Her skin-tight bike shorts kept the obvious and disappointing answer to her question hidden - meaning she didn't notice the compound fractured end of her right femur poking through her thigh.
She can pick out details from the ambulance ride - like the paramedic's questions to gauge any head injury - but the memories fade by the time the morphine set in and Ingalls was airborne, bound for Denver Health Medical Center, where she had surgery three days later.
Bouncing back
Ingalls was wearing a helmet and suffered no internal or head injuries, but the surgery - which required two pints worth of blood transfusions - and the recovery were taxing to say the least.
A titanium rod, screwed in three places, would help her fractured femur heal. A plate placed over her symphysis pubis and screw through her sacroiliac joint would slowly help repair the significant ligament damage to her pelvis.
But then there was the emotional drain.
"After surgery, I was thinking, 'OK, (bike) season is done - what can I do for the ski season,'" Ingalls said.
Ingalls was coming off a winter where she won two national titles in cross-country skiing at the March 2007 USSA Junior Olympics in Utah. She won the J2 5K Classic and was part of the Rocky Mountain team's winning 3K 3-by-3 relay team.
Heading into her junior year at Steamboat Springs High School, Ingalls had some serious physical therapy ahead of her at SportsMed-Steamboat. She was bound to crutches for the remainder of the summer through September.
"The hardest part is thinking you can do what you used to be able to do and realizing you're not strong enough to do it," said Ingalls, who had severe muscle atrophy in her right leg, halving it in size. "Even just balancing was hard, so it was important to just get out there."
Looking ahead
Two weeks ago, when she could barely balance on one leg, Ingalls got back out on her skis for the first time and gave Bruce's Trail on Rabbit Ears Pass a try.
She still can't run or partake in the some of the high-impact training with the rest of her Steamboat Springs Winter Sports Club cross-country teammates, but she rises for 6 a.m. strength sessions twice a week. On a sunny Thursday, she went through some core-strength exercises at Howelsen Hill. The wounds are scarred over, and the muscle and her balance are returning.
"Determination is a good word," SSWSC's head cross-country ability coach Brian Tate said of Ingalls, who would compete this year at the elite J1 level. "She has such a high pain threshold and she's so competitive, that when she competes, she refuses to be beaten."
On Thursday, Ingalls eyed the itemized "Specific Power 1" workout plan tacked to the wall of the Winter Sports Club's weight room for her team - "the Angry Dragon's the only one left on there I can't do," she said.
Ingalls doesn't foresee any permanent damage. All she foresees now is the first 2008 Junior Olympic qualifier in December, where she hopes to be at 80 percent and at least be able to ski the course. The second qualifier is at the end of January - when Ingalls hopes to compete again.