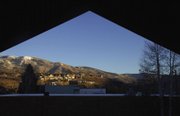 Steamboat Springs — The views from Alpen Glow are beginning to snap into focus this month as construction crews from Drahota Construction and its subcontractors prepare to transition inside for the winter.
Joe Cashen, a broker with Colorado Group Realty, is leading anyone who is interested on tours of the townhomes and condominiums that are part of Alpen Glow, even as masons and carpenters continue their work. Cashen takes particular pleasure in pointing out views of Butcherknife Creek, the ski jumps at Howelsen Hill, Sleeping Giant and Mount Werner, where the pre-sunset phenomenon known as alpenglow can be expected to make regular appearances this winter.
Alpen Glow, at Lincoln Avenue and Sixth Street, is one of four mixed-use residential commercial building projects under construction in downtown Steamboat Springs. Its sibling, Howelsen Place, at Lincoln Avenue and Seventh Street, is well under way but not as far along.
The Olympian has its foundation poured at Yampa and Fifth streets, and The Victoria is rising above the intersection of Lincoln Avenue and 10th Street.
All four projects are on corner lots and address key intersections in downtown Steamboat's commercial core. Alpen Glow and Howelsen Place will replace decaying motel/hotels. The Victoria will stand where, for decades, a former gas station served as a liquor store in the middle of a patch of asphalt. The Olympian is taking shape on a piece of formerly vacant land just across from the Fifth Street Bridge, which leads across the Yampa River to Howelsen Hill.
Alpen Glow is ahead of the pack in terms of obtaining certificates of occupancy and turning the keys over to new owners. Cashen said developer Jim Cook's intent is to simultaneously provide new vibrancy to the downtown with a variety of shops, restaurants and entertainment venues, along with a built-in clientele to frequent those businesses.
To that end, Cashen said, he is going out of his way to point out to the buyers who have contracted for spaces in Alpen Glow and Howelsen Place that their condos and townhomes are eligible to be managed as short-term rentals.
Cook has his own way of touting the advantages that downtown living has over the ski-in/ski-out competition at the base of the ski area.
"I'm a downtown guy," Cook said. "I like to talk about dine-in, dine-out possibilities."
The eighth-, second- and third-floor loft condos at Alpen Glow range in size from 647 to 1,855 square feet. Three are available. A one-bedroom unit is listed for $800,000, and two-bedroom units are about $1.1 million.
The townhomes comprise 1,681 square feet, plus a 281-square-foot garage that can be used as commercial space in a live/work arrangement.
The residences are insulated against the noise of the street, but the condos on the front of the building also offer covered decks that embrace the street and would lend themselves to hosting a party while Winter Carnival or Fourth of July parades passed below.
Cashen said people who are attracted to Alpen Glow seek the convenience of not having to care for lawns or worry about snow removal. Buyers also seek the hubbub of downtown.
"There is an urban feel to this, and it's done on purpose," he said. "Our buyers want to people-watch - they want to be in the heart of the action."