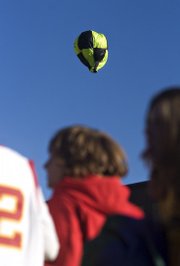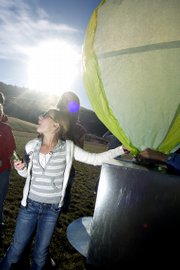 Steamboat Springs — Dustin Andrus and Cutter Pasternack were sprinting across the Steamboat Springs Middle School football field Friday morning when their hot air balloon crashed about 75 yards from where it launched.
"I don't see any tears," Dustin said of the balloon's condition when the two reached the crash site. Racing back across the field with "Dos Amigos" - their balloon made of orange and blue paper, glue and wire - the sixth-graders noted the wind speed and direction for a second flight.
In the seventh annual balloon launch, which provided a hands-on lesson for students of science teacher Matt Tredway, dozens of balloons took to the skies alongside "Dos Amigos." Students applied their newfound knowledge of convection, a form of heat transfer based on the flow of air as determined by its temperature and density.
In hot air balloons, heated air rises up the middle of the balloon, displacing the surrounding cooler air and forcing it down the sides of the balloon, Tredway said. Raising the air temperature inside the balloon's "envelope" makes the balloon lighter than the surrounding air and causes the balloon to rise.
The middle school's sixth-grade students built their balloons in small groups. Kelbi Rogers and Lesley Wilson, for example, incorporated their favorite colors of pink and green into a watermelon-emblazed balloon that they aptly named "The Flying Watermelon."
Prior to takeoff, Lesley found a small rip in the base of their balloon. The tear didn't deter Kelbi, who shouted, "Yes, it will (fly). I'm determined."
"The Flying Watermelon" successfully launched from the heat source, a propane grill fitted with pipe that fed hot air into the paper balloon.
Not every craft survived takeoff. One caught fire - the small flames were quickly extinguished - while others couldn't overcome small air leaks. But whether their balloon's flight was long or short, students raced across the field on a sunny morning to track down their lighter-than-air contraptions.
One by one, balloons including "The Nuke," "Colorado's Tweety," "The Flying Barbie Unicorn" and "The Xmas Tree" floated into the cool autumn air.
Kayla Guettich and Emily Crowe crouched in a sprinters stance while waiting for their balloon to take flight. As it lifted off, a sudden lull in wind speed left the two friends peering into the sky.
"It's going straight up," Kayla said.
"It didn't go far, but it went high," Emily added.