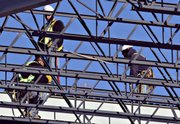 Steamboat Springs — A group of Soda Creek Elementary School parents were treated Wednesday afternoon to a virtual tour of what their children's new school will look like.
"I'm so inspired seeing the virtual tour," said School Board member Denise Connelly, who has two fifth-graders - Meghan and Colleen - at Soda Creek.
"We also saw a (bulletin) board with all the colors, tiles and laminates they are going to use," she said. "It looks beautiful. The whole theory is that they are trying to bring the outdoors in."
But there is still a lot of work to do at the school, which is rising from the ground on schedule.
Todd Ficken, the project manager for the Steamboat Springs School District's major construction projects, told the School Board on Monday that the building's steel frame is going up and that foundation work is complete, as is a major portion of the concrete interior slab. Cinder blocks have been laid, underground work is finished, and perimeter drains and roof drains are being installed.
A roof may be added to the building in the next few weeks, but as Haselden Construction workers toil to keep the project on schedule, Ficken said district officials are turning their attention to what's going to fill the school.
"We are working with the district's director of technology (Tim Miles) in finalizing audio and visual items," Ficken said.
At the district's bus barn, 11 trailers are stored with an entire school worth of chairs, books, lunchroom tables, desks, media materials and physical education equipment. In all, more than 31,000 square feet of materials must be inventoried to see what new purchases are needed.
"We have a good idea on what's in them," Ficken said. "And we are making out a list of what we can use and what we need to start establishing a better known budget value."
Despite the progress, the $30 million construction projects, which include the expansion of Strawberry Park Elementary School and the construction of a temporary Soda Creek facility, have not moved forward without hiccups.
Problems with an unstable dirt foundation at the elementary schools delayed both projects.
"These are not uncommon issues, and those challenges have been met and overcome, and we are moving right along," Ficken said.
Also, the intended site drainage conveyance system, a culvert north of Soda Creek that engineers were relying on, was found to have never been built.
"In review of the situation, there is a drainage easement through a part of the Deerfoot Arts Park subdivision that we are looking into," he said. Ficken noted that a roof drainage system has been re-routed, and other alternate drainage plans are being discussed.
"We are fortunate, at least for the present, that weather has been cooperative and has allowed the work to progress well," he said.
Soil excavation continues at Strawberry Park after unsuitable soil conditions, which Ficken described as "extensive," were discovered.
Roughly 3,000 cubic yards of bad dirt had to be removed from the site, and gravel was imported as a backfill. Some of the dirt will be used elsewhere on campus for grading.
Ficken added that contractors continue to face budgetary challenges, such as compensating for such extra work orders as unknown soil conditions and sewer line realignment.
"We have, and do carry, contingency reserves for such costs," he said. "But we feel it is prudent to maintain a healthy respect for the budget, for we still have a ways to go prior to completing the project."
As workers move forward with hammering, welding and plumbing, the business of educating children continues.
At Soda Creek, newly-elected School Board member Lisa Brown's son Oscar is making the most out of third grade in the mobile classroom facility built in the field adjacent to the George P. Sauer Human Services Center on Seventh and Pine streets.
"I think (school district officials) have managed the transition very well," Brown said. "From what I hear, the teachers, the kids enjoy it more than their previous school - and they are the ones that spend the time there."
Brown added that concerns by parents that students would not be able to handle being uprooted during the transition have been calmed.
"Children are really all about the here and now," she said.
Connelly said her children also are coping well with the transition, but watching their old school being torn down this summer was "disconcerting."
"Going down that block and seeing through that area to the hills beyond was a surreal feeling," she said. "But my kids really like being in classrooms not having poles in the room and having air conditioning."