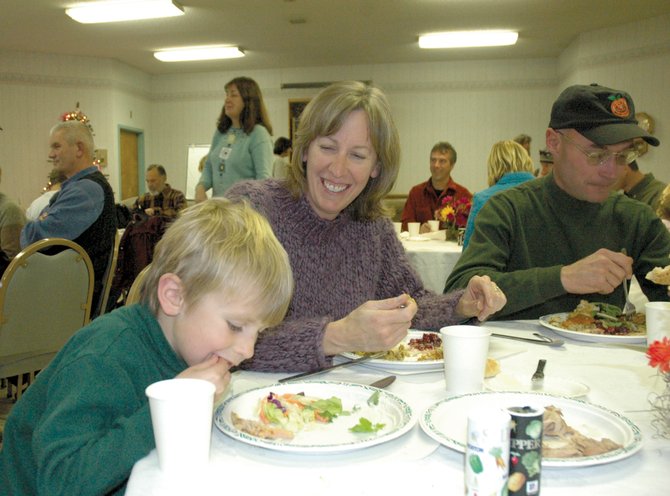 Give thanks, give turkeys
United Way seeks donations for annual community dinner
Wednesday, November 14, 2007
If you go
What: Community Thanksgiving Dinner
Where: Holy Name Catholic Church, 524 Oak St.
When: 1 to 5 p.m. Nov. 22; food donations will be accepted beginning at 11 a.m. Nov. 22
Cost: Free
Call: 879-5605
Steamboat Springs — For its annual Community Thanksgiving Dinner, Routt County United Way and Wells Fargo Bank need a lot of pie.
How much pie? Well, however many cans of pre-fab pumpkin mix and crusts are needed to feed about 500 people.
Of course, Thanksgiving dinner is about much more than pumpkin pie, and the two groups hosting the free dinner will take any help they can get.
"Anybody who wants to can help cook. That's why we can do this, because of the donations for food," United Way Executive Director Mark Andersen said.
United Way asks that anyone interested in donating food call ahead so the meal can be planned accordingly. Last year, the group carved 27 turkeys and fed more than 450 people. Andersen said he's hoping to get 30 donated turkeys this year.
Food donations will be collected Thanksgiving day starting at 11 a.m. Andersen said the organization has enough volunteers to work the feast.
The dinner is pieced together with donated, prepared foods - everything from cooked turkeys to stuffing, salads, vegetables, mashed potatoes and pie.
The event - usually held at the Steamboat Springs Community Center - was homeless for some time this fall because the old community center is gone and the new one is under construction. United Way considered a couple of locations before settling with Holy Name Catholic Church on Monday.
The Thanksgiving feast will last an extra hour this year - from 1 to 5 p.m. - to accommodate its increasing popularity with permanent and transient residents.
"It's not just those who are less fortunate," Andersen said, noting that the event is popular with Colorado Mountain College students who can't make it home for the holiday, empty-nesters and those who just like to have a lot of people around for turkey-time.
"It's a very mixed crowd - that's what makes this event. It's a community Thanksgiving dinner," Andersen said.