Tom Ross
Tom Ross' column appears in Steamboat Today. Contact him at 970-871-4205 or tross@SteamboatToday.com.
Find more columns by Tom here.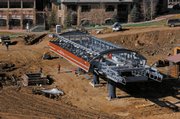 Steamboat Springs — Jeff Colton uttered words to warm a skier's frozen heart Monday.
"We should begin to see a series of storms ripple across the region. It's what we typically see this time of year," Colton said. "The patterns favor northern Colorado (as opposed to) the southern part of the state. It looks like this will be a northern mountain winter."
Colton is a meteorologist with the National Weather Service in Grand Junction. I should clarify that he is not promising powder pie for dessert on Thanksgiving. He just sees weather patterns to our north and west that suggest winter is coming, just like it always does.
Technically, the National Oceanic and Atmospheric Administration climate modeling maps show northern Colorado in a region where there are equal chances of average, below-average and above-average precipitation throughout the winter. However, just to our northwest, Utah's Uintah Mountains are in a zone expected to receive above-average precipitation in November through February. Steamboat powder people can dream a little bit and hope that abundance spills over into Northwest Colorado.
So when will it snow?
"The pattern is more progressive," Colton said.
So what does that mean, weatherman?
"That big ridge of high pressure has broken down," Colton added. "Right now the jet stream is fairly well north of our area. The ridge is trying to reform. But there's some potential (for snow) Tuesday night and into Wednesday, and then again Saturday and Sunday."
If you arrived in Steamboat Springs within the past five years, you may have become a little spoiled when it comes to November powder. We've had a couple of years - Novembers 2003 and 2005 come to mind - when there was such an abundance of snow that skiers and snowboarders were allowed to carve upper Closets as far down as Duster. That used to be unheard of in November.
To put it in focus, the average mid-mountain snowfall in November was 62.5 inches during the past five winters. That compares to the 10-year average of 48.88 and the 25-year average of 33.25 inches.
November 2006 saw 49 inches of natural snowfall, which proved to be the equal of December 2006 and exceeded January 2007 by 8 inches. Last winter it was February that came through, with 97.5 inches of snow, the highest total for that month since 1993.
I'm pretty certain the next question on your mind is whether the ski area will be able to pull off a Nov. 21 opening for Scholarship Day, given the construction still taking place at the bottom of Headwall.
"Snowmaking crews are monitoring the overnight conditions very closely," Steamboat Ski Area spokeswoman Heidi Thomsen said. "All of the new snowmaking equipment is installed and ready to go. You can see the new tower guns over toward Bear Claw."
The cable has been strung on the relocated Preview chairlift, and the chairs should be installed this week. The cable on the new Christie Peak Express High-Speed six-passenger lift is also being installed, Thomsen said.
She stopped short of predicting how the ski area might route skiers to the bottom of the slopes on Scholarship Day. With nine days remaining before opening day, things can (and hopefully will) change.
Thomsen said the new snowmaking guns are very sophisticated, allowing comparable snow production with the consumption of 30 percent less energy.
Snowmakers worked farther up the mountain two nights last week in the area of Eagles Nest and Betwixt and Between. On some nights, Thomsen said, their system allows them to determine that snowmaking operations would be more effective on one portion of an individual run than elsewhere on the same trail. That allows them to make the most of favorable conditions, she said.
Colton recalls late November 2005, when the slopes of Mount Werner were transformed by 7 feet of snow that fell in two storms arriving one after the other.
"I don't see that happening this year," he said.
OK, maybe we won't be skiing Closets this month. I'll settle for 111 inches of fluff in December. Cross your fingers and sacrifice a drumstick to the snow gods.