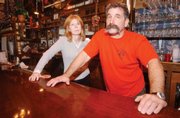 Steamboat Springs — Jade Summit and Pirate's Pub owner Kevin Nerney is exploring several avenues to overturn last week's revocation of his liquor license.
Nerney said Monday that he intends to reapply for a liquor license, appeal the council's decision in District Court and ask a newly seated council at its first meeting tonight to reconsider the punishment. He also will request that the revocation be stayed until his appeals are resolved.
Nerney was found not guilty of unlawful sexual contact in Routt County Court in August. The court case stemmed from an alleged incident that occurred in February at his bar. Despite the verdict in the criminal case, city officials proceeded with a quasi-judicial administrative hearing to determine whether Nerney violated the state's liquor code of conduct.
Although a criminal conviction requires a finding of wrongdoing "beyond a reasonable doubt," the administrative hearing used the less rigorous standard of proof known as "preponderance of the evidence," which only requires a finding that the charges were more likely than not to have occurred.
Nerney and his Steamboat Springs attorney, Kris Hammond, have disputed the city's hearing on principle since Nerney was cleared of criminal charges.
"I don't think it should have gone through City Council," Nerney said. "The City Council is a legislative body. They don't get to play judge, jury and executioner."
Hammond agreed.
"It was unreal," he said. "The case is brought by a city representative. You go over to the city building to have the case heard. And the city was judge, jury and executioner."
Nerney could have avoided Thursday's hearing in August, when the city offered him a 15-day liquor license suspension, with 10 days held in abeyance. Had he taken that offer, his liquor license would have been suspended for a total of nine days, including four days in abeyance from a 2006 violation. Nerney rejected the plea offer, also on principle.
"He's not going to roll over for the (city) staff or anybody else for something that he did not do," Hammond said at the city's hearing last week.
In a 3-2 vote, City Council members Towny Anderson, Susan Dellinger and Karen Post voted for the revocation, and council members Paul Strong and Steve Ivancie voted against a punishment they called too harsh. Council members Ken Brenner and Loui Antonucci were not present. Hammond also took issue with the short-handed council.
"In a five-member body, three is a majority," Hammond said. "In a seven-member body, three is a minority."
Anderson, Dellinger and Post officially give up their City Council seats tonight. Each lost their respective races on Election Day.
Getting the case to be reconsidered by City Council won't be easy. Assistant City Attorney Dan Foote said a motion of reconsideration has to be made by one of the council members who voted in the majority. Anderson, Dellinger and Post are technically still council members, but they will hand over their authority at the beginning of tonight's meeting.
"I suppose there is a theoretic possibility that could happen," Foote said.
Nerney also might not have luck reapplying for a new liquor license. Foote said liquor license determination requires a finding of "good morale character and reputation" and take past revocations into consideration.
"He could apply, but the fact that he just has his liquor license revoked would be an important consideration," Foote said.
If an appeal is made to District Court, a judge would review transcripts from the city's hearing to determine whether the city took appropriate action. If the District Court judge finds that the city acted inappropriately, Hammond said that the most likely outcome would be the awarding of a new trial with the city.
In the meantime, Nerney is feeling a business pinch from the loss of liquor sales.
Nerney said Steamboat Springs police officers came to Jade Summit and Pirate's Pub the same day as council's ruling to post a notice of Nerney's liquor license revocation on the restaurant and bar's door. They also ordered Nerney to remove all alcohol from the premises.
"Right now I'm operating as a restaurant, but no liquor is being served," Nerney said. "It's at least 50 percent of my business. : It's extremely damaging."
Through all his planned courses of action, Nerney hopes he regains a liquor license soon.
"The mountain is opening in two weeks," he said. "Timing is of the essence."
Authority's days over?
The City Council's future as the city's Liquor License Authority also is in question. Several of the winners in last week's City Council elections spoke during the campaign of scaling back council's workload by increasing its delegation of authority. Cari Hermacinski, winner of council's at-large seat, said last week that she would like to see the council no longer serve as the city's Liquor License Authority.
Such a move would be possible according to state statute, which defines a local licensing authority as "the governing body of a municipality:or any authority designated by municipal or county charter, municipal ordinance or county resolution."
- To reach Brandon Gee, call 871-4210
or e-mail bgee@steamboatpilot.com