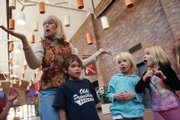 Steamboat Springs — JoAnne Hilton-Gabeler, curriculum and instruction director for the Steamboat Springs School District, said district stakeholders have embarked on one of the most important steps in creating an all-day kindergarten program - starting a dialogue.
Some of those stakeholders - such as administrators, teachers, support staff, parents and other members of the community - met for the first time Nov. 2 for an all-day kindergarten committee meeting.
"We discussed all aspects, all the concerns, all the issues and all the things they wanted to make sure were included if we had all-day kindergarten," she said. "We had a really productive discussion, and they gave me lots of things to consider before going forward, and some historical pieces - things that have not gone well in the past or things that have gone overlooked in the past."
Strawberry Park Elementary School Principal Brenda Barr said about 20 people attended the meeting and discussed how the district can physically accommodate all-day kindergarten and how to fund it.
"It's an exciting opportunity for the community to get involved," Barr said. "There are a lot of questions to be answered, but we are doing our due diligence, and that's something we need to do."
It is not mandatory to attend or provide kindergarten in Colorado. The Steamboat Springs School District offers half-day kindergarten classes that begin in the morning and afternoon. There are 118 students in half-day kindergarten programs at Soda Creek and Strawberry Park elementary schools.
Hilton-Gabeler said the committee discussed whether to limit the number of children who could participate because of facility capacities, funding options and whether to retain half-day kindergarten as an option for parents.
"I thought everyone would just want full-day kindergarten, and I didn't think anyone would want half-day to remain," said Hilton-Gabeler, who noted she has created seven options for implementing the program.
"The different options will be based on what the district can afford at the time," she said. "They will see the seven options and the price tags for each one of them so that they have some idea of what kind of program - and how expensive of a program - they are looking for."
Interim superintendent Sandra Smyser told the School Board on Monday night that the district is not prepared to ask the Education Fund Board for money to support all-day kindergarten until the options are discussed.
"We are still reviewing the options," she said "We just haven't gotten there yet."
Smyser is set to address the Fund Board in December to present districtwide funding priorities that could be funded by the city's half-cent sales tax for education.
Hilton-Gabeler said regardless of what the committee decides is the best all-day kindergarten option, it's up to the School Board to implement a plan.
"The board makes the decisions, but (the committee) will give their recommendations on what is the most workable and the least workable," she said, adding that she hopes the committee will meet again before Thanksgiving. "I won't be telling the board a recommendation, but I'll be presenting the pros and cons of each option when it comes time for them to make a decision."
Smyser has previously stated she would like to have an implementation decision by March. Hilton-Gabeler stressed that the district needs to know whether the new Soda Creek will be open in August to accommodate kindergartners before any decisions are finalized.
"Everybody says the school will be ready, but if it is not, and they don't move into the facility until October or November, there will be no place to put them," she said. "You never know, and if we have a full capacity of kindergartners ready to start, and their parents haven't made alternate plans, then you are putting parents in a tight spot."
- To reach Mike McCollum, call 871-4208
or e-mail mmccollum@steamboatpilot.com