Veterans Day events
Sponsored by Veterans of Foreign Wars Post #4264 and American Legion Post #44
What: Veterans Day Breakfast
When: 8 to 10 a.m.
Where: VFW, 924 Lincoln Ave.
What: Veterans Day Dinner
When: 5:30 p.m.
Where: VFW, 924 Lincoln Ave.
Cost: $10 per person with a cash bar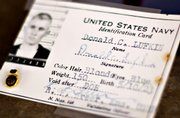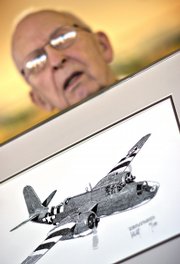 Steamboat Springs — Donald Lufkin, 84, remembers Dec. 7, 1941, like it was yesterday.
Lufkin was born and raised in Steamboat Springs and served in the Navy during World War II. He was on his family's ranch building a dairy barn when the news that Japan had attacked Pearl Harbor came over the radio.
"I always wanted to be a Navy man," Lufkin said, wearing an American Legion hat and his Navy ring on the tip of his index finger. Worn from many years of wear, the ring no longer fits.
Lufkin lives at the Doak Walker Care Center, along with several other of Steamboat's World War II veterans. More than 52 years have passed since the United States declared victory in Europe and in the Pacific, and as the surviving veterans grow older, they and their stories have begun slipping away.
Today's Veterans Day holiday - known as Remembrance Day or Armistice Day in other parts of the world - marks the anniversary of the end of hostilities in World War I. The United States has an estimated 23.4 million living veterans, according to the U.S. Census Bureau, more than 3 million of whom served in WWII.
Lufkin joined the Navy with a friend of his after a night at a local bar, when they decided it would be a lot easier to join up than keep working for their dads, according to his daughter, Vikki Franz.
Franz held her father's hand reassuringly while he told his story from his wheelchair, choking back emotion, and she prodded him with clues for memories he strained to remember.
"He's just started in the past few years to tell us stories about WWII, because I think it's hard for him," Franz said.
Lufkin was stationed in the Philippines during the war, where he drove a PT boat and ascended to the rank of seaman first class. Thanks to its rough ride, Lufkin likes to joke that his ship was "the bathtub of the sea."
"I was mighty proud to be in the Navy," Lufkin said. "To be out hitting (Japan) on the front line. PT boats were sneaky, sneaky boats, and they hit the places that needed to be hit."
His boat was on the way to Japan for the pending invasion when the bombs were dropped on Hiroshima and Nagasaki.
His crew was once lost at sea, towing a beat-up barge across the Pacific from the Philippines back to the United States. When they arrived in San Francisco after being unable to make radio contact during their entire voyage, Lufkin said he had never been so glad to set foot on dry land in his entire life.
Night watch
Fellow Doak Walker resident Martin Shively, 90, proudly held a picture Friday of the plane he flew on as part of the Army Air Corps.
"That plane is an A-20 attack bomber, and I was an aerial gunner," Shively said. "Right up in here is a turret with 50-caliber machine guns, and there's another gunner down below. We flew night reconnaissance in central and northern Italy, and my job was if anybody shot at us, to shoot back at them."
Shively expressed relief that his reconnaissance work never brought him to the front lines of the European conflict.
"I was very fortunate - I was only an observer. I never had an occasion to shoot anybody," Shively said.
In addition to flying, Shively worked in intelligence and typed up citations for meritorious work by his fellow corpsmen.
"I enjoyed working as a typist, because otherwise I might be out on the flight line loading bombs into airplanes," he said.
Shively recalled being home on furlough in Decatur, Ill., when Germany surrendered in May 1945. He was scheduled to receive more training and move on to the Pacific theater, but Japan must've heard he was coming and surrendered too, he said with a mischievous smile.
Steamboat's WWII veterans are not just men. Many women, like 92-year-old Joanne Cannon, also signed up to serve their country.
"I felt like I was doing what I was morally supposed to do to help my country," Cannon said. "I just thought that was the thing to do."
Rough seas
As a self-described act of patriotism, Cannon joined the Women Accepted for Volunteer Emergency Service in March 1943. WAVES was the Navy's all-female branch during World War I.
With prior medical experience, Cannon worked as a lab technician in Navy clinical hospitals, drawing and processing blood samples. She completed her basic training at Hunter College in New York, and served at the National Naval Medical Center in Bainbridge, Md., and later in Atlanta.
WAVES were not allowed to travel overseas, something Cannon did not know when she signed up. Women in the program were not recognized as officially part of the Navy, an acknowledgement that did not come until 1948.
In addition to caring for men returning from war, Cannon emphasized that she and other WAVES each released a man from domestic service to fight overseas.
Being in the Navy presented difficulties for J.R. Gifford, 82, who suffered chronic seasickness as a minesweeper aboard the U.S.S. Pursuit in the Pacific and the Panama Canal. But for Gifford, serving his country and protecting its fleet were more important than his health.
"I could've gotten off the ship in Pearl Harbor and be reassigned, but I chose not to," he said.
Gifford grew up in Kansas City and was drafted in October 1944. During his service, he ascended to the rank of quartermaster, where he specialized in navigation and signaling.
After attending basic training in Illinois, Gifford moved on to quartermaster school in Gulfport, Miss., and was then assigned to a ship in Portland, Ore.
Gifford had not done much traveling before joining the Navy, he said, adding that he was just "a farm boy in Missouri."
A glint in the eye
The stories were just as moving to hear for some of the observers as they were for the veterans to tell. Doak Walker community life assistant Jean Ballard shed tears while Lufkin recounted his time in the Pacific.
"It was emotional. These people are my family," Ballard said.
Ballard sat with Al Ligons, one of the last surviving Tuskegee Airmen. Ligons can no longer speak, but his eyes glinted as he held some of his WWII memorabilia.
The Tuskegee Airmen were the country's first African-American fighter pilots, and flew as the 332nd Fighter Group of the Army Air Corps during the war.
Of all the residents who were at Doak Walker when Ballard started working there seven years ago, Ligons is the only one who remains.
- To reach Melinda Dudley, call 871-4203
or e-mail mdudley@steamboatpilot.com