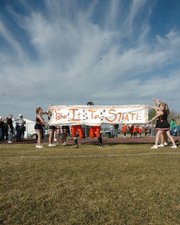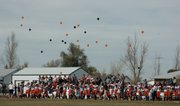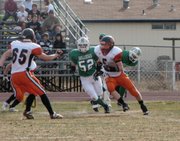 Byers — It would have been a great day to rob a house in Hayden.
Hundreds of the Tigers' football faithful traveled 225 miles east and packed the visitors sidelines of the Byers Bulldogs' field on a hot and windless Saturday, matching, if not outnumbering, the home fans and the volume of cheers.
But it was the Hayden squad on the field that dug deep to shut down the Byers offense and rob the Bulldogs of their hopes of a first trip to the Class 1A state semifinals. With a combination of a stingy defense that thwarted seven drives and two key conversion attempts, its most balanced offensive effort of the year, and a handful of huge plays from its senior team leaders, No. 5 Hayden upset No. 4 Byers, 14-12.
The win earns Hayden a home semifinal game, time to-be-determined on Saturday, against No. 1 Akron, which defeated No. 9 Peyton, 39-9.
It wasn't until Hayden senior lineman Dusty Parrott stepped onto the field for the first series of downs that he realized just how outsized the Tigers were. The Bulldogs starting O-line outweighed the Tigers' by an average of 45 pounds.
But that was also when he realized what needed to be done.
"I thought, it's gonna be hard,' so it was just reaching down, grabbing your heart and playing with that," Parrott said.
Tigers ready
A difference in intensity was apparent from the start. It took the Hayden defense three plays to shut down Byers, and then the Hayden offense took just nine plays to march 65 yards - on six carries from running back Russell Waugh and a 34-yard scramble from quarterback Mitch Doolin - to put the Tigers on the scoreboard first.
"That was a good first drive to get things rolling and give us some confidence," Hayden head coach Shawn Baumgartner said.
The Tigers and Bulldogs traded hard hits that led to short series, with neither team making it deep into the other's territory until Byers freshman quarterback Jordan Dodge, an ace with nearly 1,300 passing yards on the season, finally connected on a pass and Byers running back James Maes finally started cracking into the Hayden secondary.
On six quick plays, the Bulldogs went 68 yards on the ground, in the air and onto the scoreboard. But they did not convert their ensuing two-point conversion pass attempt.
Hayden answered before the half by showing that when it had to the pass, it could. Tight end Aaron Haskins reeled in a tipped pass that led to a 31-yard gain, and then Waugh connected with Coy Letlow on a halfback pass. Doolin capped the drive with a touchdown pass to Treyben Letlow, whose older brother Coy kicked in what would prove to be the winning score on an extra-point kick.
Doolin could have upped the ante even further with his 99-yard interception return with two minutes to go in the first half, but the play was called back on an illegal blocking penalty.
"We wasted opportunities and made too many mistakes against a very good football team," Byers coach David Dodge said. "They did a nice job with the play action and we did not do a good job recognizing - that's a credit to their coaching staff and kids."
In the air
No one who had seen the up-the-gut, on-the-ground, rush-oriented 2007 Tigers play this season would have recognized the white-and-orange-jerseyed team that came out in the second half. Doolin used four receivers and completed seven of eight pass attempts for 80 yards.
"Our receivers were stepping up, and our seniors were making plays," Doolin said.
One of those plays was a one-handed, 28-yard catch sucked in by senior receiver Sam Kopsa to keep a third-quarter drive alive.
Despite the big plays and the big breaks - Hayden's next drive was salvaged by a roughing-the-kicker call - Hayden could not capitalize with a touchdown.
Fortunately, the Tigers caught a break to start the fourth quarter when Mitchell VeDepo recovered a fumble by Byers' Sevelle Hasan on a punt return.
Hayden got as far as the Byers 11-yard line. Hasan then redeemed his turnover on the Bulldogs' first play from scrimmage, taking a screen pass from Dodge 89 yards to the end zone.
Hayden assistant coach Bob Harris said this game would likely come down to extra points, and sure enough, both crowds held their breath as Maes tried to pile-drive up the middle on a two-point conversion to tie the game with four minutes to go.
Hayden shut down the rush.
The Tigers then orchestrated a final, smash-mouth drive to kill the clock, highlighted by another crucial Coy Letlow fake punt that secured the Hayden win.
"That's the toughest game we've had all season," Haskins said. "All around, they were great. The line was huge, and they were hitting hard.
"This is the best feeling I've ever had," he continued. "Now it's nothing but giving everything we've got for another week."
On the other side of the playoff bracket, No. 6 Wray upset Western Slope League champion Grand Valley, 20-19 and will play its semifinal at No. 2 Limon, which defeated No. 10 Highland 39-20.