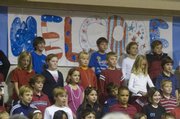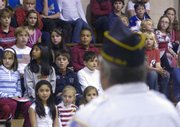 Steamboat Springs — Jim Stanko could hardly contain himself when he read a handwritten note given to him Tuesday night by a Soda Creek Elementary School student.
"Thank you for fighting for our freedom and our beautiful country," the student had written.
"It sounds so simple, but it's nice just to have someone say 'thank you,'" said Stanko, a Vietnam-era Army veteran, who joined about 50 service men and women Tuesday night for a 'Salute to Veterans' program presented by Soda Creek students.
"It's a great program on both ways - for the students and the veterans," he said. "The kids get excited about it, and it kind of gives them a reason to understand a little bit about patriotism, and it's also great for the guys."
This was the third year the fourth- and fifth-graders have paid tribute to veterans under the direction of teacher Amy Larson.
"I grew up in a small town in South Dakota called Hot Springs, and they had a veterans' hospital there," she said. "I don't have someone in my family serving in military, but I think back on my growing up days touring the hospitals over Christmas - singing Christmas carols - and I have always wanted to do something like that here to honor them."
Soda Creek Principal Judy Harris opened the program by accepting a Blue Star Banner for the Steamboat Springs School District's interim Superintendent Sandra Smyser, whose daughter is serving in Iraq. Smyser was unable to attend the event.
A Blue Star Banner is a small flag with a white field and a red border, with a blue star for each family member in active duty.
"Our visitors here are role models for our school virtues that include respect, commitment, integrity and honesty, compassion, responsibility, love and friendship, and citizenship," said Harris, who then asked students to recite the school's motto.
"Do the right thing," the mass of students enthusiastically called out.
"And those sitting before us are an example of those who have done the right thing," Harris said.
The program featured a presentation of military flags and patriotic musical numbers performed by the students, who practiced for more than three weeks preparing for the event.
"I spent a lot of time talking to them about history and patriotism and talking about how this program really reinforces the virtues we care about at Soda Creek," she said. "They seem to understand how much their 'thank you' means to the veterans. And on the flipside, the veterans' 'thank you' means a lot to the students."
As students carried flags from the Army, Coast Guard, Navy, Air Force and Marine Corps into the gym at the George P. Sauer Human Services Center, those who had served in each branch stood at attention.
Following the flag presentation, veterans from World War II, Korea, Vietnam and other eras were given the opportunity to thank students.
"I want to say a special thanks to you guys for doing this program for us tonight," said Doc Daughenbaugh, who served in the Marine Corps in Vietnam.
"You are too young to remember, but Vietnam veterans didn't get much thanks for what they did, and it really means a lot to us, so thanks very much."
- To reach Mike McCollum, call 871-4208 or e-mail mmccollum@steamboatpilot.com