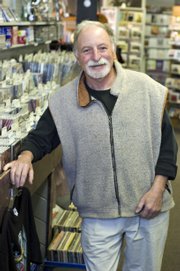 Steamboat Springs — Indie rock fan, All That Jazz employee and record aficionado Tony Ranieri knows that vinyl records never went the way of the 8-track or cassette tape.
"Most of the people who got rid of their vinyl just thought they weren't making vinyl anymore," Ranieri said. But they - independent record companies and foreign distributors - were still making records in that medium.
And as digital media consumers, CD store clerks and music writers line up in the funeral procession for the record industry, high-quality vinyl pressings have become a way for big name labels to feel alive again.
At Ranieri's suggestion, All That Jazz owner Joe Kaboudi started buying and selling used records about a year ago. It started out with one batch of classic rock titles that a customer happened to want to get rid of.
From there, Kaboudi has started to actively pursue the dusty discs that have been forgotten by their owners by going to garage sales and keeping an ear out around town and in the store.
"I started out only buying classic rock, but as we've expanded I'll take almost anything, because of the range of people that buy them," Kaboudi said. That range includes people who grew up with LPs, and lately has seen more 20-something faces.
"A good, younger market is exploring older vinyl because the sound doesn't really compare to anything else," Kaboudi said.
To catch that younger market, Kaboudi buys new titles on record, as well - from bands that appeal to the subculture crowd such as Iron & Wine and The Shins, to artists that are simply putting out great music, such as Bruce Springsteen or a recent Alison Krauss/Robert Plant split.
The birth of cool
For a lot of people - namely, those who have high-quality sound systems - vinyl just sounds better, especially with the old stuff.
"It's a much warmer sound. It's actually less accurate to true sound. It has a sort of effect to it, but I happen to like that effect," said David Caddell, a freelance music writer and sometimes-DJ.
"The most important thing is the tangible aspect of a record," Caddell said. "You can hold it in your hands and you can put it on the turntable and drop the needle directly on the record, and you have that tangible experience."
Part of that tangibility is a discernible thought process from the artists putting the album together, Ranieri said. Back when bands had to think about clearly splitting their songs in half, albums inherently had to be shorter and more cohesive.
"I'm old school. I don't like CDs over 50 minutes in length," Ranieri said. "Like I love Iron & Wine, but I think their last record is like two songs too long - take those off, and it would be the perfect vinyl length."
Ranieri is a fairly avid record collector himself, with about 600 titles in his collection. Before he moved to Boulder, that number was closer to 1,500, a downsizing because of space that Ranieri is still kicking himself over.
To Caddell and Ranieri, vinyl records are second nature.
"I first started buying vinyl in second grade in Southern California. I bought the Muppets version of 'Saturday Night Fever,' and I just listened to it all the time," Caddell said. When he moved to "Detroit Rock City," Caddell said, he bought big rock titles - at the time, Van Halen - as they came out. He was hesitant of CDs when they were introduced.
"I tried CDs for a while, and I realized that they're just not as cool," he said. "I think that vinyl is just more of a human experience, because you're a part of placing the medium in the amplifier, and the sound is totally organic."
Modern times
For Dale Cross, a plumber who plays guitar in his free time, vinyl has a more practical purpose: He uses it to learn the songs kids today seem to like.
Increasingly, they seem to like Led Zeppelin and Jethro Tull, he said.
"I give guitar lessons three nights a week, and the guys that come and play with me enjoy that kind of music," Cross said. "And now I can go down to Joe and get all these albums I used to have, and I go through and learn some of these old songs. So to me, they're kind of a tool, not just a pleasure."
Cross finds himself going back to guitarists and musicians he admired at their prime and completing his collections of their work.
"Now I can go down to Joe's and get four or five albums by the same artist," he said. "I bet I've bought maybe 200 albums from him."
Cost is a factor, too. When the music itself is what you're after, the medium is more of an afterthought.
"You know if you're paying $15 or $20 for a CD, I might not go back and get some of the old, old ones. A lot of those albums I'll grab 'em just to get one or two songs on 'em. That's why they're beneficial to me," Cross said.
"With a record, I'll get those two or three songs for $5 - just to not have to get a new CD of an old recording," he said.
And at All That Jazz, most vinyl doesn't even cost $5. Kaboudi said he tries to price most titles between $.99 and $3.99, tacking on a couple of extra bucks for double discs, harder-to-come-by artists or rare pressings.
Kaboudi is adamant about everything being in good to excellent condition and won't put anything in a crate that is dirty or scratched. Of the hundreds of records he's bought in the store, Cross said he hasn't returned one.
Vinyl definitely has made a comeback in some circles, but it can't be as big as it was, Ranieri said. There are just too many convenient options available for music consumption.
For now, it's something Ranieri and Kaboudi look forward to.
"I had started to give away some of my old vinyl, but I find myself sneaking some of the good jazz titles home," Kaboudi said, admitting to something just about every record store employee is guilty of.
"Whenever I get a stack of vinyl, I have to go through it right then, no matter what time of day it is."
- To reach Margaret Hair, call 871-4204
or e-mail mhair@steamboatpilot.com