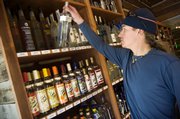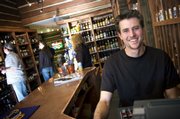 If you go
What: Pioneer Spirits
Where: 1104 Lincoln Ave.,
in the Old West Building
When: 10 a.m. to midnight Monday through Saturday
The retail liquor business in downtown Steamboat Springs is growing almost as fast as it disappeared a few months ago.
Pioneer Spirits is the newest option for downtown residents and passersby. The liquor store opened on Halloween in the Old West Building at 11th Street and Lincoln Avenue.
Pioneer Spirits joins Cellar Liquors Downtown as Lincoln Avenue businesses that have replaced a trio of alcohol sellers - The Bottleneck, Go-Fer Foods and Rocky Mountain Wine and Liquor Co. - that closed their doors in the past year.
The group of friends who started Pioneer Spirits said they did so to fill a niche in the downtown business community
Owners Jeff Worst, Amy Garris and Kyle Lindahl met while working together at Mountain Resorts. The idea for Pioneer Spirits was conceived on their porch one night last spring.
The trio moved forward with their business plan during the downtown liquor lull not just because it made sense from an entrepreneurial point of view, but because they missed having a liquor store that aimed to serve locals - a place they could walk to from their nearby homes.
Garris, who manages the Old West Building as president of Old West Management, knew she had the "perfect spot" for Pioneer Spirits when former tenant Steamboat Kitchen and Bath moved out of the space. The rest of the details just kind of fell in place.
"Since it was in the Old West Building, we thought we'd give it an old-timey kind of decor," Garris said.
All the wood in Pioneer Spirits - and there's plenty of it, lining the walls and composing the shelving - is locally grown and comes from trees killed by bark beetles or was waste wood from old barns in the area.
"We owned property up in Stagecoach, and we cut down all the beetle-kill trees ourselves and took them to the mill," Garris said. "In a way, it's sort of sustainable use, because the people up Elk River were burning the barn wood."
The trio divided the responsibilities according to their areas of expertise - Garris is the property manager and resident wine aficionado, Worst is the beer and liquor specialist and Lindahl is the "numbers guy."
Pioneer Spirits has something for every adult, Worst said.
The selection at the store includes 125 varieties of microbrews in addition to mass-produced beers, and more than 60 wines for less than $20 a bottle.
"We really worked a lot on hand-picking wines that are not so strange no one has ever heard of them ... but maybe something they don't have at every other liquor store in town," Garris said.
The reserve room features "hard-to-find, single-vineyard, estate-grown wines" and top-shelf labels of scotch. Garris expects the reserve room to get much more play come ski season.
"It gives people a chance to buy something better when they're on a special vacation," Garris said.
Pioneer Spirits also has a humidor stocked with cigars, including some Worst and Garris tracked down in Hawaii.
From cutting the paneling that lines the walls to enlisting Garris' brother in Alaska to design the Pioneer Spirits logo, the owners have taken a hands-on approach to everything that went into the store.
"It's just awesome to see it all come together," Worst said.
Besides the potential business success, Pioneer Spirits may help Garris attract more foot traffic to the other tenants in the Old West Building.
"Whether we like it or not, liquor brings people," Garris said.