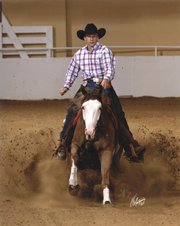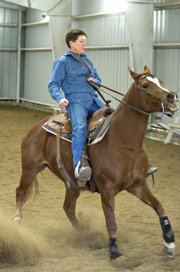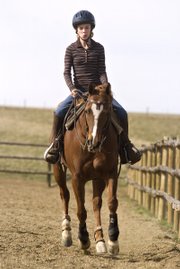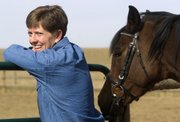 When it reins, it pours
The Yampa Valley's production of some of the country's top reining riders doesn't end with the Fralick family.
Jason Kvols, a former American Junior Paint Horse Association youth reining world champion and seventh-place finisher at the reining finals of this summer's 2007 World Championship Paint Horse Show, just made the cut for another top-notch international competition.
"This will be the biggest and stiffest competition I've ever been to," Kvols, a Steamboat Springs High School senior, said of his qualification to the National Reining Horse Association 2007 Adequan North American Affiliate Championship.
The event brings together more than 1,000 qualifiers from the U.S., Canada and Mexico from Nov. 22 to Dec. 1 in Oklahoma City.
Kvols said he has been pushing himself in his daily riding.
"It's the challenge of getting better - the speed, adrenaline, rush and the preciseness - the challenge of getting better for the horse and for the rider," he said.
Hayden — When it comes to the equine sport of reining, Medora Fralick won't hesitate to remind you that you're not dealing with an English riding discipline.
"Reining is strictly Western," Fralick said. "It's rooted in working cattle, seeing how quick you can turn and move a horse, seeing how well they could cut a cow from a herd."
Fralick and her daughter Ryan, 12, carry on the Yampa Valley's ranching legacy, acutely focused on the task of training horses to perform under pressure. But now there's no cattle, just a panel of judges waiting to see how precise their horse can execute a series of dynamic movements together with the rider.
Such is the world of competitive reining, in which the Fralicks are immersed. About nine months a year, during the "show season," Medora, Ryan - and often Routt County trainer Regina Wendler - travel the country to stack their Arabian horses against the best.
This season proved to be a breakthrough for the mother and daughter duo.
In late July, Ryan took the family's two top mares, Merci and Saqqara, to the Youth National Arabian & Half-Arabian Championship Horse Show in Albuquerque, N.M. Out of 1,500 youth competitors, Ryan earned a top 10 finish, fourth overall among riders ages 13 and younger.
Then just two weeks ago, at the Arabian Horse Association's national championships, Medora took a page out of her daughter's book, taking fourth place on Saqqara through three rounds of elimination and more than 1,800 other horses from across the U.S. and Canada.
"It was almost surreal, everything was so precise," Fralick said of the national competition. "Reining is very accurate and detail-oriented and everything I asked of (Saqqara), she gave."
Reining gives Fralick a constant set of new challenges and goals she can hope to progress through with her horse. The competitions typically are scored by five judges on eight physical maneuvers ranging from stops, lead changes and 360-degree pivots to 35-foot sliding stops. Part of the challenge for the Fralicks is mastering the distinctive and reputable breed of horse itself.
"Some people will tell you (Arabian horses) are harder to handle and more excitable, but we breed them to show it's not that - they're extremely smart, very athletic and I think they have more try and more loyalty than any other I've been around," Fralick said. "They're new to reining, so I think we're on the cutting edge because of their 'hard-to-handle' stereotype."
Fralick had her first taste of Arabian riding seven years ago and decided she believed in them enough to start breeding them in her spare time. Now Fralick, 43, a commercial property manager, breeds and raises Arabian horses with her husband, Ross, on their 40-acre ranch south of Hayden.
Fralick will quip about the Arabian horses' ancient bloodlines, when the people-friendly steeds were part of Egyptian family life and invited to sleep in the same tents as their masters.
Ryan devotes serious amounts of her free time to training her horses every day after school and on the weekends - logging the necessary hours for the never-ending task of bending a powerful animal's willingness to be guided through technical motions it would never perform otherwise.
"I just love being with the horses," Ryan said. "I don't even mind" the cleaning and feeding.