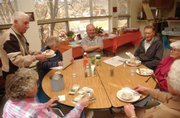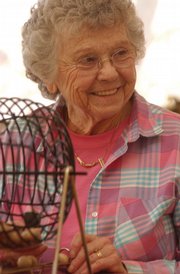 If you go
What: Oak Creek senior lunch
Where: Oak Creek Community Center, 227 Dodge St.
When: Mondays, Wednesdays and Fridays at noon
Getting there: Free transportation offered. Call Gene Harris at 736-8347
Oak Creek — The senior citizens in South Routt County know a good deal when they eat one.
For $2.50 on Wednesday, they were treated to a four-course meal of spaghetti, garlic bread, salad and pudding for dessert.
"It's pretty expensive," joked South Routt resident Jack Romick, who shared a table with his wife, Janie, and Vera and Punch George, who live outside Phippsburg.
The price stays the same no matter what might be on the lunch menu every Monday, Wednesday and Friday, with meals prepared by Patricia Crawford.
She has cooked meals sponsored by the Routt County Council on Aging for the past six years.
Conversation during the lunches typically ranges from community affairs to all the latest gossip, Janie Romick said.
"Punch and I talk about girls," said Jack Romick, sitting across the table from his wife.
"Vera and I talk about how we don't have to do dishes," Janie Romick said.
The lunch is served in the Oak Creek Community Center above the town's library.
A piano sits in the corner of the room, and bulletin boards are decorated with a fall theme.
"A lot of people have really put there heart and soul into this," Janie Romick said. "We just come to eat."
Maxine Stefano served on the Council on Aging's board for nearly 10 years, and has been active in the senior lunch program.
"We've been doing this for a while," she said.
Stefano says they celebrate every holiday and birthday, and she redecorates the bulletin board each month.
"I just keep things kind of on track down here," she said. "We're just thrilled that it's successful as it is, because we've worked a lot of years to get it to this point."
The senior lunch serves many purposes, Stefano said. The meals are nutritious and inexpensive, and there is a true sense of community.
"We have folks that have been here so many years and it's so good to talk to them," Stefano said.
"They have so many stories at their fingertips."
The lunch also provides a social environment for seniors, which is important to keep spirits high.
"This is the only outlet some of them have," Stefano said.
On Wednesday, nurses from the Northwest Colorado Visiting Nurse Association were set up in the room to give flu shots.
It was just one example of the services and activities seniors have access to.
There is oftentimes music or some other sort of entertainment.
On Mondays and Wednesdays at 11 a.m., Molly McClure leads a free exercise class for anyone over the age of 50.
The class focuses on range of motion and strength and balance, McClure said.
Vision, hearing and blood pressure testing also is offered about once a month.
Janie Romick said about 20 people typically participate in the senior lunches and related activities, such as games of bingo.
"We like to keep the numbers up because it's such a good program," she said. "You use these things or you lose them."