Election 2007: Time for change
Read all stories related to
Election Day results
2007 Election, How Routt County voted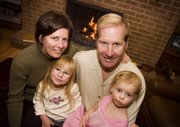 Steamboat Springs — Wednesday was a day for second-guessing as Steamboat Springs City Council incumbents pondered their resounding Election Day defeats.
Councilman Towny Anderson wondered whether the council's decision to place a $34 million recreation center on the ballot cost him and two others re-election. Voters left little doubt about their feelings toward the proposal - the referendums were defeated, 80 percent to 20 percent.
The City Council voted unanimously in September to put the recreation center on the ballot. Anderson said council members were so pressured by a group of recreation center supporters that they decided to let voters make the call. The two recreation center ballot questions, which proposed funding for construction, operation and maintenance of a facility at Ski Town Fields, would have implemented the city's only property tax.
"In retrospect, council should have never let that come to a vote," Anderson said. "I never factored that into the equation, but what that did is bring the conservative vote out en masse. And that really hurt us."
In an election that will bring five new members to the seven-member council, Anderson's loss was the worst. Challenger Cari Hermacinski netted 2,068 votes to Anderson's 1,166 - or 61 percent to 34 percent - in the at-large race. Dave McClure, who withdrew from the election last month but already was on the finalized ballot, received the remaining 5 percent of the vote.
Scott Myller defeated City Council President Susan Dellinger, 57 percent to 43 percent. Jon Quinn defeated Councilwoman Karen Post, 56 percent to 44 percent.
Despite the challengers' large margins of victory, all three incumbents won in Precincts 12 and 13, which include Steamboat's Brooklyn, Fairview and Old Town neighborhoods. The challengers won Precincts 14 through 18, which extend south from Old Town to the mountain area. Results were mixed in Precinct 11, Steamboat's westernmost precinct, where Post beat Quinn by two votes, Myller beat Dellinger by two votes and Hermacinski beat Anderson by 18 votes.
While the divisions in every precinct but the 11th were clear, explanations for the split are not.
"I couldn't tell you," Anderson said. "It seems to be a paradox, given the historic preservation moratorium was my cross to bear."
In September, the City Council enacted a moratorium banning the demolition of structures deemed historic, while the city's current historic preservation ordinance - one of mandatory review but voluntary compliance - is reevaluated. The moratorium followed a broader-reaching emergency moratorium that halted even minor renovations to older homes throughout the city for weeks.
Anderson advocated both moratoriums, which drew passionate opposition from Steamboat's older neighborhoods. Anderson later admitted the emergency moratorium was a mistake. As with the recreation center, City Council was accused of succumbing to a small group of persistent special interests in enacting the moratorium.
Early votes unclear
Hermacinski questions whether she and the other challengers actually lost in Precincts 13 and 14, noting the more than 2,300 votes that were made early or by mail-in ballot. Those votes have not been broken down into their precincts of origin.
"I bet you we won," Hermacinski said Wednesday.
Routt County Clerk & Recorder Kay Weinland said early and mail-in ballots are considered their own precincts. She said her office would not organize those votes by precinct.
City Manager Alan Lanning said he was surprised by an election that could create "potentially a dramatic shift in philosophy."
"I'm always surprised when all of the seats change," Lanning said. "Obviously you have to re-educate yourself and relearn the personalities and the direction they want to go."
While Anderson admitted mistakes with the recreation center and historic preservation moratorium, he said most of the decisions, such as the passage of affordable housing legislation earlier this year, were the right ones.
"We've been talking about affordable housing for 25 years, and this is the first council that did it," he said. "I'm not sure you can address the issues we addressed without it appearing to be chaotic and tumultuous."
Dellinger said the outgoing City Council members made the decisions they felt were right and paid no concern to how they might affect re-election campaigns.