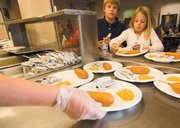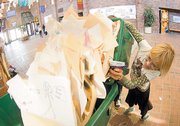 Steamboat Springs — Barb Parnell said it takes only one person to make an impact in helping to save the environment. But the Yampa Valley Recycles volunteer noted that Strawberry Park Elementary School's collective conservation effort is truly inspiring.
"They are approaching conservation and recycling as a team - student council, parents, staff - everyone is putting their time into this," she said. "What you really saw this past year is a group of people who are working together."
Recycling podcasts recorded by students, bulletin boards with examples of what to recycle, acquiring additional recycling containers and working to put biodegradable products in the cafeteria are just a few of the students' efforts.
In recognition of the students' hard work, Yampa Valley Recycles recognized Strawberry Park as the 2007 Recycler of the Year. The award will be shared with Steamboat Resorts and the Hayden Post Office.
"We ask students to do the brainstorming on what they can do and provide an environment in the school to make a difference," said student council advisor and Strawberry Park media specialist Sherry Holland.
"We generate a tremendous amount of paper at the school," she said. "What they have learned is not to just promoting general recycling concepts, but to conserve and reduce the amount that is put in. I want to stress that this is their agenda, not ours."
In October, the school district replaced its plastic cutlery and Styrofoam plates with products made from potato starch and sugar cane fibers.
"They called Waste Management and vendors themselves to get more information," Parnell said. "It was their effort that kick-started this districtwide."
A parent "Green Team" also was formed at the school, which will address other Earth-friendly issues such as environmentally safe cleaning products and reducing traffic to the school.
Parnell said Steamboat Resorts was honored because the property management company's decision at the corporate level to support widespread recycling is unparalleled in Steamboat Springs.
"We have been trying to get multi-family (housing) recycling going for a long time," she said. "This is the first time a big company has taken this on."
Parnell said the Hayden Post Office has significantly cut the amount of waste thrown away since a group of Hayden residents came together to develop a program to recycle excess paper.
"This program began as a result of a phone call on the Yampa Valley Recycles hotline from Loita Mauer, who had taken on gathering the newspaper at the post office and taking them to the Hayden Mercantile for recycling," she said. "She said it was getting hard for her and wondered if we could help."
Parnell said Diane Sather was willing to start a recycling program at the post office and that within two weeks of planning with Waste Management, the program was in place.
"Since implementation of this program, trash at the post office has decreased by 50 percent," Parnell said.