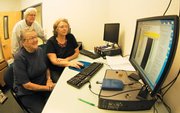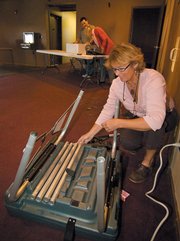 Polling locations
Precinct(s), polling location
1 - Moon Hill School House, 50710 County Road 129, Clark
2, 5 - Routt County Fairgrounds exhibit hall, 398 S. Poplar St., Hayden
3, 4 - Lufkin LIFT-UP Center Food Bank, 2125 Curve Court, Steamboat
6, 7 - Steamboat Christian Center, 36103 E. U.S. Highway 40, Steamboat
8, 9 - Oak Creek Town Hall, 129 Nancy Crawford Blvd., Oak Creek
10 - Yampa Town Hall, 56 Lincoln Ave., Yampa
11, 12 - Centennial Hall, 137 10th St., Steamboat
13, 14 - Routt County Courthouse annex, 136 Sixth St., Steamboat
15, 16 - Yampa Valley Medical Center, 1024 Central Park Drive, Steamboat
17, 18 -Steamboat Tennis Center, 2500 Pine Grove Road, Steamboat
Ballot in brief
Routt County - DeBrucing question to fund road improvements
RE-1 School District - School Board candidates
RE-2 School District - School Board candidates
RE-3 School District - School Board candidates and two mill levy increase questions
City of Steamboat Springs - Council candidates and two mill levy increase questions
Hayden - Building materials use tax question
North Routt Fire Protection District - DeBrucing question
Hayden Cemetery District - DeBrucing question
Campaign contributions
Campaign contributions for the Responsible and Fair Taxation for Routt County issue committee were left out of a story in Saturday's Steamboat Today. The committee has campaigned in opposition to Referendum 1A, a county ballot question to fund road improvements. A list of contributions follows: Annabeth Lockhart, $100; Charles Baker, $20; Curt Weiss, $200; James and Marilyn Simon, $50; John Shaw, $1,100; Joseph Brennan, $500; Mix and Karen Beauvais, $100; Total - $2,070.
Steamboat Springs — Election Day has arrived, but many voters won't visit any of the 10 polling locations set up throughout Routt County today. Truth be told, Election Day is no longer just the first Tuesday in November.
Routt County Clerk and Recorder Kay Weinland said more than 4,000 residents already have voted early or by mail-in ballot. Considering only 6,850 people voted in the county's last odd-year election, it's unlikely polling locations will experience the hours-long lines that landed Routt County on the Colorado Secretary of State's Election Watch List after the 2006 election.
While this year's turnout isn't expected to approach the record turnout of 2004 - when 92 percent of the county's nearly 14,000 registered voters cast ballots - Weinland expects a healthy showing.
"I think we're having really strong turnout for this election," she said. "If we get 50 percent in an odd-year election, it's pretty good. But I'm never satisfied. I always hope for more."
One reason more voters may be motivated to fulfill their civic responsibility this year is the number of local issues on the ballot: Five of seven Steamboat Springs City Council seats are up for election; Routt County is presenting a deBrucing question to fund road improvements during the next six years and other projects afterward; the North Routt Fire Protection District and the Hayden Cemetery District also have deBrucing questions; Steamboat Springs ballots will contain two questions related to a proposed $34 million recreation center; the town of Hayden hopes to replace an automobile use tax with one on building materials; the South Routt School District has two tax increase questions; and all the county's school districts have school board seats up for grabs.
Win or lose, those invested in the results of today's elections said they will be happy when it ends.
"It's been a long campaign," said Steamboat Springs Councilman Towny Anderson, who hopes to hold on to his at-large seat against challenger Cari Hermacinski. "The choice is real clear, and that's a good thing."
County officials said life would go on regardless of whether voters decide to approve their ballot measure.
"It's always good to have an election over with," County Commissioner Diane Mitsch Bush said. "If it doesn't pass, we'll have to make some decisions and prioritize."
Councilwoman Karen Post, running against Jon Quinn for one of two District 3 City Council seats, said her daughter did the best job of putting today's contest in perspective. She told Post that she'll be happy win or lose because a win would mean Post can do a good job for the city, while a loss would mean "she gets her Mommy back."
Partly because of its proximity to the Routt County Courthouse, Old Town Pub will fulfill its traditional role as a campaign headquarters. That's where Hermacinski, along with Quinn and District 1 candidate Scott Myller will anxiously await election returns.
"I'm so excited," Hermacinski said. "I'm a really curious person, so I can't wait to see how all five races turn out."
Some other candidates will do the same a couple of blocks down at Tequilas. Vince Arroyo, who is running against Walter Magill in the other City Council District 3 race, will be at the Mexican restaurant. Arroyo said he is "definitely excited."
"It's coming down to the wire," he said. "Take it day by day. That's all you can do. It's been a learning experience."