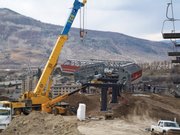 Steamboat Springs — With the start of the 2007-08 ski season 16 days away, work on the new Christie Peak Express six-passenger chairlift is accelerating at Steamboat Ski Area.
"It's coming along quite nicely," ski area spokesman Mike Lane said Friday.
Lane said the mid-station, which gives skiers and snowboarders the option of disembarking at the top of the Headwall trail or continuing on to Christie Summit, was installed early last week.
The drive shaft motor for the chairlift was scheduled to be installed Friday, he added. The lower lift terminal is scheduled to be installed as early as Tuesday.
The new Leitner-Poma of America chairlift will replace three lifts - Preview, Headwall and Christie II - at the ski base. The new lift's lower terminal is approximately where the lower Headwall terminal sat, with an angle station, for unloading only, just above the top of Southface. Its upper terminus is where Christie II formerly unloaded.
Christie Peak Express will have a length of roughly 4,700 feet and a capacity to move 3,200 people per hour, which would be 400 people more per hour than the ski area's gondola. The new express lift will cut the ride time to the summit of Christie Peak by more than two-thirds, from 15 minutes to less than five minutes.
In addition, five magic carpets - Tenderfoot, Colt, Filly, Tumbleweed and Sidewinder - located throughout the base area will be upgraded, realigned and lengthened. The new Preview lift, using the repositioned Southface lift, will be realigned to conform to the re-grading of the beginner terrain, extend further up Headwall and increase capacity from a double to a triple chairlift.
- To reach Tom Ross, call 871-4205
or e-mail tross@steamboatpilot.com