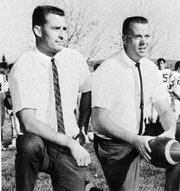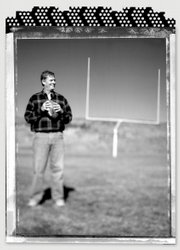 Oak Creek — The future of football in South Routt County is unknown.
After two winless seasons in Class 1A Western Slope League play, two seasons in which the Soroco Rams fielded young and thin teams, the high school administration currently is negotiating with the Colorado High School Activities Association to move its football team from an 11-man to an eight-man division, where its enrollment is projected to fit for the foreseeable future.
The past is a different story.
Turning the clock back 39 years, when Soroco had a smaller student body than it does today, the end of November meant a shot at a state title.
The 1968 Soroco Rams went undefeated in the Class 1A Gore-Yampa League for the second season in a row and were relishing in a tough quarterfinal victory against a "dirty" Aspen team. They had won, 14-6, and headed home on the bus to Oak Creek, celebrating with a "Welcome to Aspen" banner they had stolen off the lampposts (and were later forced to return).
"It was a cool day with a little rain," said left tackle Carl Ray, a Yampa resident who works as a heavy equipment operator at the McCoy Pit and Quarry and remembers the game like it was last week. "We were on a roll, they didn't beat us up, we just held our own and scored when we had a chance."
"With those Aspen guys, you'd get in a scramble with 'em and they'd pinch your legs, they'd bite at you if they could," said Yampa's Bob Maijala, the team's all-state tight end and middle linebacker. "They were playing at all costs trying to intimidate us. It was a hell of a defensive battle."
Those were the days of one-point conversions that Soroco added with a go-to "look-in" passing route, since no one on the team knew how to kick. The seasons started with August conditioning sprints up the hill on the south side of Decker Park, where all the home games were played on what Maijala called "the best field in the whole league." When snow covered the Decker field, coal was used to mark the lines.
Bob Johnson still makes sure the football field is in prime playing condition. Johnson began working for the South Routt School District since 1965. The longtime groundskeeper has retired from his longtime teaching and coaching positions at the high school, but Johnson can still recall every player's contribution from the teams he helped coach with skipper Jay Roope.
"We only had 120 kids at the school then, but the good kids all came out," Johnson said. "The kids we had were good ranch kids and the best athletes from the cities."
Although Johnson picks out other details from the eye-poking Aspen game - such as the "hippies that pulled up and lined the field" - the team will have one image forever burned in their collective football memory bank.
The day Limon came to Oak Creek for the state semifinals.
"It looked like the whole football field turned black - we only had enough players to go from the 10-yard line to the goal post - I don't know how many guys they brought," Ray said of the Badgers' deep ranks. "I'm still shell-shocked."
Maijala remembered Limon's sleek, no-huddle offense.
"They'd make calls and take off," Maijala said. "They probably had three teams worth of players. They'd get tired and put a new team and a new quarterback in that was just as good.
"They even kicked a 45-yard field goal in Oak Creek."
The Rams still managed to get on the scoreboard and keep things close early in the game.
"We held our own in the first half, but then they just ran us ragged," Ray said.
The game ended in a 37-13 win for Limon, who went on to crush Ignacio, 86-26, in the state finals.
'67 or '68?
One year earlier, the 1967 Soroco Rams' season also ended with a state semifinal loss to an eventual state champion Limon squad, 57-14 in Limon. But Mark Smith will argue that the '67 team he quarterbacked is the greatest 1A team ever fielded in South Routt.
"Everybody knew everybody, and that junior class and my (senior) class had a lot of good athletes," said Smith, 1967's "Mr. Soroco," who lives in Craig and works at the nearby Colowyo Mine. "We were just close. Everybody helped and no one took credit."
Oak Creek's Tom Gregory earned second team all-state honors that year, as the team's halfback option in its wishbone formation. Gregory pointed out that in '67, the Rams first undefeated season was highlighted by their first win ever against Granby - a 21-0 victory.
The 1967 team went 8-0, including a 14-0 win against Steamboat Springs.
But the 1968 Soroco Rams can argue that they gave Limon - a team Smith remembers because "those Stone brothers hit my center, Charlie Fogg, so hard it knocked me over" - a better game by holding the Badgers to less points. The '68 Rams, however, only tied the Sailors and had one loss to a nonleague opponent, a 31-19 defeat against Moffat County.
Regardless of which squad can claim the title of "best-ever," the tight-knit core of teammates have remained in each other's thoughts. Both teams noted standout offensive backs that died too soon - 1967's Tom Martindale in a car accident prior to graduation, and 1968's David Fogg during his military service in the Vietnam War.
Maijala has lost his letter jacket and "burned holes in the sleeves of (his) sweater," but when he bumped into 1968 senior right tackle Mike Redmond on Friday at Penny's Diner in Yampa, the pair ended up chatting for 45 minutes about great days long gone.