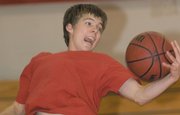 Steamboat Springs — Colorado high school basketball champions are crowned in March, but coaches and players know a championship mentality is built much earlier.
In Steamboat Springs, the boys and girls basketball teams put in strenuous work this summer. Whether it was in the weight room or at camps, players have been gearing up for the upcoming season for months. That work continued last week, as more than 25 players on both teams gathered for a preseason camp.
The Colorado High School Activities Association allows teams to hold camp for eight days before actual winter sports practices begin.
The first day for winter practices is Nov. 10.
Steamboat Springs High School's boys and girls teams are coming off different seasons, but it wasn't hard to find similar principles at Thursday's session.
"It helps gets the freshmen involved," senior Blake Weinstein said. "It gets them in practice. It refreshes us with the basic plays and gets us ready for the season."
Boys coach Kelly Meek and girls coach John Ameen were using the sessions to put in initial offenses and defenses, as well as work on fundamental skills.
"It's a combination of everything," Meek said. "It's bringing our young and our old together and refreshing and resharpening."
The boys team enters the season with big expectations.
The Sailors return their top three scorers from last year - Aaron Calkins, Colby Kostur and Michael Vandahl - as well as three players who contributed to last year's team, which just missed making the Elite Eight.
But Meek said before this team can realize those expectations, they have to put in the work. That work includes defensive packages and working on skill sets during the preseason camp.
"We do anything with a skill set, because I think that's been lost a lot with kids just coming out and playing AAU games, and then coming out and shooting 3s and playing loose games," Meek said.
For the girls team - coming off a one-win season - expectations are a little different.
Ameen, coming into his second year as head coach, said the girls skills are much better, as is their knowledge of the offense. But maybe the biggest difference, he said, might be his familiarity with the team.
Last year, Ameen had one week to prepare before actual practices started.
"It's so much easier," Ameen said. "Last year, I had less than a week to prepare. This year, we've been together doing open gyms and lifting since March. So you get to know the players better and you get to work with them on a regular basis. That makes it better on so many different levels."
While Steamboat high school basketball doesn't tip off for another four weeks - both teams open Nov. 30 at the Roaring Fork tournament - both coaches said the work put in during these eight days of preseason camp allow them to lay the groundwork for a successful winter.
"You can take something, correct it and teach it," Meek said. "Also, we can have our old kids demo for our younger kids. It gives the younger kids an idea what it takes to be one of these kids. For a lot of them it's a big shock. But it's really good, because our older kids have always been good to our younger kids."
- To reach Luke Graham, call 871-4229
or e-mail lgraham@steamboatpilot.com