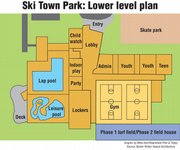 Steamboat Springs — For more than a year, proponents of a new recreation center in Steamboat Springs fought simply to get the facility onto the ballot.
Their wait is finally over.
A unanimous City Council voted in September to put the recreation center on the ballot, and the past two months have seen a contentious campaign marked by heated public debate and extensive advertising both for and against the proposed recreation center.
Now it's up to Steamboat voters, who will have the final say in Tuesday's election.
The construction, operation and maintenance of the proposed facility at Ski Town Fields would cost Steamboat taxpayers as much as $3.4 million in additional property taxes next year, not including users' fees.
That increase would mean an additional $33 a year, per $100,000 of estimated market value for residential taxpayers, and an additional $121 a year per $100,000 of estimated market value for commercial taxpayers, according to calculations by Bob Litzau, the city's interim finance director.
City Manager Alan Lanning said the recreation center, if approved, would be the "highlight of the budget" for 2008. The $34 million facility would constitute about 40 percent of the city's total spending next year.
The ballot issue includes two questions. The first asks for approval of an operation and maintenance tax for the center, which would be funded by an increase in property taxes of up to $455,500 annually - for collection in 2008 - and by additional amounts annually in later years. The property tax would be imposed at a rate of up to 0.7 mills.
The second question concerns the actual construction of the recreation center and asks that the city be allowed to increase its debt up to $34 million. The repayment of that debt would be funded by a property tax increase of up to $2,965,000. The property tax would be imposed with an annual mill levy increase without limitation. Lanning estimated the rate would be between 4 and 5 mills.
As proposed, the recreation center would include youth and teen facilities, a double gymnasium, an elevated walking and running track, locker rooms, a six-lane indoor lap pool with a diving well, a warm leisure pool, artificial turf fields, an indoor playground and a fitness center.
There have been passionate arguments made for and against the recreation center. Few argue the quality of the facility, but many take issue with its cost and necessity.
Some concerns have been raised about how the city would deal with potential cost overruns. The ballot issue is based on consultant estimates of cost, but no engineering or bidding of the project would occur unless voters approve it. City Attorney Tony Lettunich said that if major cost overruns occurred, the city would have to decrease the scope of the facility or kick in some of its own funds.
Steamboat mother Michelle Diehl said there is a need in Steamboat for a safe place for kids to have fun.
"Just knowing local kids, there's a huge need for a place for kids to hang out," Diehl said.