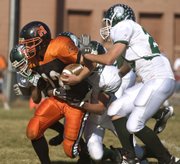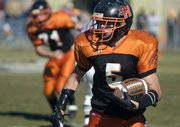 Hayden — The nine seniors on the Hayden football team have advanced to the Class 1A state playoffs in every one of their high school years.
This year, they want more.
Senior Aaron Haskins stood with a bloodied finger and grass-stained jersey after Saturday afternoon's first-round playoff match-up with Sanford, his focus still firmly set on the seniors' main goal: a trip to the state semifinals and, possibly, beyond.
With Hayden's 35-27 victory against Sanford - sealed on a 1-yard Coy Letlow rushing touchdown with exactly one minute left on the game clock - the Tigers' hope still is alive and now one win away.
Hayden (No. 5) advances to the state quarterfinals to play No. 4 Byers (8-1), who defeated No. 13 Sargent, 18-13, on Saturday. Byers won the coin toss and will host Hayden on Saturday at a to-be-determined kickoff time.
"We have one more tomorrow," Hayden coach Shawn Baumgartner told his team after a Mitch Doolin interception ended the game, killing Sanford's hope for a last-minute miracle drive. "You sucked it up in the end when you needed to, faced adversity and came out on top."
On a November day with a little extra sunshine and a hometown decorated with a little extra orange and black, Hayden had that little extra bit of intensity to break open a, 27-27, tie game with six minutes to go.
Backed up on the Tigers' 40-yard line, Letlow was looking to punt on fourth down. An earlier botched fake punt by Letlow to open the second half gave the Indians a short field to score and cut the Tigers' lead to one point.
Both teams had then traded impressive drives, Hayden on the ground and then Sanford on the arm of quarterback Austin Edgar, who threw for 132 yards. Both teams converted extra points.
So with the game tied and in the timeout that Sanford called to try and ice Letlow, Baumgartner gave Letlow a choice.
"I told him to read it, and if you have a gap, to run it," Baumgartner said.
Letlow, who muscled his way to 180 hard-earned, tackle-breaking yards and three touchdowns in the game, saw his gap.
"I saw it open up and my linemen had the blocks on everyone," Letlow said. "I knew I got it when I was tackled."
The first down kept the fourth-quarter drive alive.
Letlow then polished off the 12-play, 68-yard final drive with five consecutive carries to score the Tigers' winning points.
"Hayden's a tough and physical team that just 'out-physicaled' us man to man," Sanford coach Cody Reynolds said.
The Sanford Indians, whose enrollment tier fits that of Class 1A eight-man programs, proved a tough opponent, having emerged from the Southern Peaks League at 8-1, one point shy of a league title and undefeated record.
How it started
It took the Indians a bit to recover from the six-hour, 300-mile bus ride. Hayden shut down Sanford's opening drive and Russell Waugh's 30-yard punt return set up his own 13-yard touchdown to put the Tigers on the board.
Indians defensive back Colton Sutherland killed the Tigers momentum early in the first quarter by picking off Doolin and returning the interception 50 yards for a touchdown to tie things up.
Five plays later, on the heels of Letlow and Waugh, the Tigers regained their lead.
But when the Indians had their chance to answer, the Tigers proved they deserved their top-five seed with an impressive defensive stand.
On fourth down at the Hayden eight-yard line, Edgar looked to have an open touchdown pass in his sights until Hayden junior defensive back Ethan Armstrong made a diving block to deny Sanford.
"We held them and Ethan made a good play," Baumgartner said. "We had a lot of different kids step up."
With 92 yards ahead of them, the Tigers' offensive line laid down the blocks for Waugh and Letlow to move the chains. The Indians then orchestrated a late second-quarter drive behind a string of crafty screen passes, but the Tigers' defining defensive stand enabled them to carry a 20-13 lead into the half.
Two steps
"Just two steps left now," Hayden senior lineman Garrett Murchison told his teammates of the road to a championship game.
"I think we can do it," Haskins said. "We live football for the next week."
As far as the Western Slope League's other playoff qualifiers went, No. 16 Meeker lost to No. 1 Akron, 46-0, while No. 3 Grand Valley defeated No. 14 Burlington, 29-7.
- To reach Dave Shively, call 871-4253
or e-mail dshively@steamboatpilot.com