Curtain call
With 7 months left to operate, Steamboat Mountain Theater owner looks to the future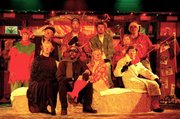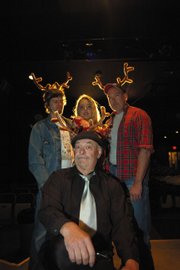 For all the energy he puts into supporting theater in Steamboat Springs, Kelly Anzalone has no formal experience in theater or any of the arts. At all.
"That's what is sort of interesting when I feel like I'm the big catalyst to make bigger theater in Steamboat," Anzalone said, sitting in the production booth of Steamboat Mountain Theater, which he owns.
"I've never even been to a real theater production. Ever. Like 'Phantom of the Opera' or anything like that, because I've never been in an area that has that kind of stuff.
"It's sort of weird how I ended up in this - it seems to really fit me, and I'm really natural doing it, but I could never have told you 10 years ago that I would be a theater owner in Steamboat Springs, Colorado."
Dreams deferred
Steamboat Mountain Theater will come face to face with a wrecking ball at the end of May 2008.
Anzalone wants a developer breaking ground on a new venue around the same time.
The new space would be as configurable as possible and booked as much as possible - a well-designed black box theater with an adjoining restaurant and bar. Steamboat Mountain Theater is 3,200 square feet. Anzalone said he'd like the new space to be at least 6,000 square feet.
It could be done for $5 million, and it could be outfitted with state-of-the-art equipment and "that really sweet restaurant" for $10 million.
"I was getting rather despondent with the theater, thinking, 'Ah, you know, is it worth staying open when they're closing me?'"
Then he had busy months in September and October, people calling to book dates, people approaching him with their support for the space. Doomsday got a little sunnier.
"I've almost got the whole season booked (with) shows that I know can make enough money to let me cover my bottom line, so that when they tear the building down, I won't owe a ton of money, which is the goal," he said. "It's not a moneymaker, believe me. But it could be."
Shopping out help
Working toward the end, Anzalone is trying to put together information for people interested in helping the theater.
"Oh, you want to help the theater? Do you want to help behind the bar and take tickets? Or, do you want to give me $100,000? Where are we talking?" Anzalone said.
To raise that kind of money and get a new entertainment venue off the ground, Anzalone admits he'll have to stop trying to do everything himself - maintaining artistic control but delegating tasks such as fundraising and selling tickets.
Because the theater isn't a nonprofit business, Anzalone can't accept donations to pay people. So anyone volunteering to sit on a board of directors or help with fundraising would be doing that work for free.
During his past few productions, he said he has found support from participants and families who have said they'd be willing to give their time.
"One parent came over and said, 'I love to raise money,'" he said. "Awesome. I don't. I like to do lights; I like to do tech, I like to run sound."
To get over some of the legal hurdles of making a performing arts venture that can make money - and not lose it, as most do - Anzalone has thought about tagging along with the Steamboat Community Players' board of directors.
"They can accept money right now, and to set up a nonprofit would take at least three years. So that's where I'm hoping I can sort of glom on to a nonprofit," he said.
Building an arts community
When community organizations want to rent out the theater, Anzalone said he could fall back on nonprofit status to help finance it. For example, Steamboat Dance Theater wouldn't be expected to pay $1,000 a night for the space and would instead get it at a much-reduced rate.
"My biggest thing is that it has to be for the community," Anzalone said.
"I'm not doing this so that I can have repertoire theater come in. A big, downtown thing, maybe that would be them. But me, you're going to be able to take drinks into the theater, enjoy the show no matter what it is and still see a very quality production."
Anzalone doesn't see that conflicting with other potential developments in the town's cultural boom.
"I don't think that it could hurt Steamboat in any way to have my venue, and then another performing arts center here. How could that be bad?" he said.
Prospects for the future
He's never seen a big production, but Anzalone has been doing his research on the places that put them on.
What he has found is to build a large, multi-use facility can take up to $38 million and 15 years - such as the one in Jackson Hole, Wyo.
"That's why I want my smaller venue to happen much quicker. I want that to happen within a year or so," Anzalone said.
Anzalone said he has a developer who is ready to build. And if he can get the plans together, he'd like to have that developer digging by spring 2008.
"I'd like to be involved in the design process. I'd rather design it than retrofit it. But all I really need is a big box. The long and short of it is that I really need a box of 6,000 square feet with reasonably high ceilings," he said. "And there's just no current space in Steamboat that will do that without massive renovations."
When he talks about not knowing how to run a theater, at least not when he started, Anzalone brings up his experience with video editing, his major in college.
"People say, 'I want you to produce a commercial for me; let me show you the old one.' I don't want to see the old one," he said. "I want to come up with my own idea and create, and now see the old one and be able to see the difference. But I think in some way, it makes me not be skewed by the way things are done."
Tell Anzalone that method could work, and he replies: "It's going to work."