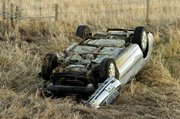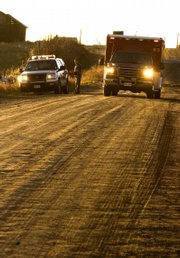 Steamboat Springs — A Denver man is in custody with minor injuries after leading the Colorado State Patrol on a high-speed chase Friday south of Steamboat Springs.
Mark Nicholson, 45, will face charges of felony eluding and reckless driving, Colorado State Patrol Trooper Rick Kaspar said. Kaspar said he initiated a traffic stop just before 5 p.m. Friday on eastbound U.S. Highway 40, ascending Rabbit Ears Pass. Nicholson, driving a silver Lincoln sedan, slowed down and moved to the right side of the road before suddenly flipping a U-turn and speeding back down the pass, Kaspar said. Kaspar pursued the vehicle, which turned left onto southbound Colorado Highway 131. Kaspar said he lost sight of the vehicle at mile marker 64 on Colo. 131, when Kaspar's patrol vehicle topped out at 103 miles per hour.
Kaspar estimated Nicholson's speed at 120 mph.
Kaspar caught up with the vehicle as it turned left on Routt County Road 14, toward Yellow Jacket Pass and Stagecoach Reservoir. At the intersection of county roads 14 and 14C, a sharp right turn, Nicholson lost control of the vehicle, which rolled into a field and landed upside down. Kaspar said Nicholson then kicked out the rear passenger window and exited the vehicle. Kaspar drew his service weapon and detained Nicholson until the arrival of Routt County Sheriff's Office deputies. Deputies Kurtis Luster and Paul Yonekawa assisted Kaspar with placing Nicholson in custody.
A Steamboat Springs Fire Rescue ambulance transported Nicholson to Yampa Valley Medical Center. Nicholson complained of a headache and laceration to his forehead.
"The driver had the odor of an unknown alcoholic beverage on his breath and told me, 'I'm drunk,'" Kaspar said.
Nicholson could additionally be charged with driving under the influence of alcohol if State Patrol determines he was intoxicated at the time of the incident.
"This kind of thing doesn't happen up here very often, but I've been involved in a couple of them," Luster said of the high-speed chase.
The accident is under investigation. No other cars were involved.