Past Event
Saturday, November 3, 2007, 10 p.m.
Mahogany Ridge Brewery & Grill, 435 Lincoln Ave., Steamboat Springs
21+ / $5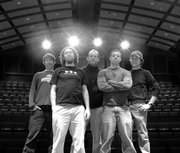 Steamboat Springs — Vail funk quintet Flux5 likes to skew the proportions on the James Brown-inspired formula "2 percent jazz, 98 percent funky stuff," by leaning more heavily on the jazz while providing plenty of danceable grooves.
The band, which boasts four music degrees, five years together and a live album coming out by the end of this year, will bring its funky originals and a collection of covers to Mahogany Ridge Brewery and Grill on Saturday.
The group is fresh off a two-month break for writing and practicing, honing its New Orleans-style, rock-influenced funk with collaborative songwriting and a steady diet of The Meters, Galactic and Poppa Grows Funk.
Flux5 leadman and tenor saxophonist Dave Laub talked to 4 Points about balancing out jazz, writing as a band and how, sometimes, holding a degree in advanced music theory can make your stage presence less than funky.
4 Points: With the setup of the band being a rhythm section and you on saxophone, do you end up leaning more on jazz-based tunes?
Dave Laub: Over the course of the time that we've had a band, that's shifted. It started off just playing funky arrangements of jazz tunes, and over the five years I've had the band, we've gotten away from that so we're less jazz and more New Orleans-style funk.
I hesitate to use the word jazz, because sometimes it turns people off. But we approach our music the same way that a jazz musician would approach jazz in the fact that we have structured tunes that have a lot of room for improvisation in them.
4 Points: So with four out of the five people in your band holding music degrees, how does that affect this collaborative songwriting process?
DL: It makes it take a really long time to write the tune.
4 Points: Everyone's an expert.
DL: It's a thing that, really, everybody grows together when we're doing that.
It's really something where a lot of the times, I'm almost turned off by bands that have a lot of expertise, because a lot of the times, you get stuff that the musician likes to hear but maybe isn't that great to listen to.
4 Points: Lots of songs in 6/11 meters, things like that.
DL: Exactly. And there's a time and a place for that.
4 Points: But that time and place is maybe not so much a bar where people are trying to dance.
DL: Yes. Whenever I read about a band and I read that there's a bunch of people who have music degrees, I wonder how they can address their audiences.
And as far as our tune-writing process, it's definitely been a growing experience for everybody. And me being the bandleader, I sort of have some philosophy about how we're going to do it, and it really takes each person to understand that, and you have to drop a lot of the selfishness.