Photo Gallery
Intro to Lindy Hop workshops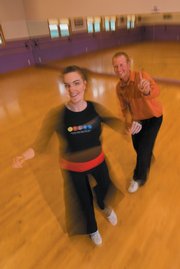 Past Event
Friday, November 2, 2007, 6:30 p.m. to 8 p.m.
Northwest Ballet of Steamboat Springs, 326 Oak St., Steamboat Springs
Not available / $15 - $20
Steamboat Springs — Brady and Jenny Meier have been addicted to swing dancing since college.
And for the next two Fridays, they'll share that love with anyone who wants to learn with beginners' Lindy Hop workshops at the Northwest Ballet Studio.
"A lot of it is just selfish," Brady Meier said of the couple's attempt to drum up interest for swing dancing in Routt County. "You get to know swing dancing, and you just fall in love with it."
Lindy Hop is an eight-count partner dance, set to 1940s big band music. It's fast, lively and, as long as you can count to eight, fairly easy to learn.
"In the realm of swing dancing, there's a variety of styles, and Lindy Hop is just one of them," Brady Meier said.
The Meiers started dancing while in school at the University of Wyoming. Brady started a club called the Swing Pokes - a play on the school's "Pokes" nickname - that performed at basketball games and social functions. Jenny was a dance major and joined the club. After graduation, the two moved to New York City and danced with a professional group called Varsity Swing.
When the couple moved back West, they found a dearth of 1940s big band music or people who wanted to dance to it.
"We moved back here, and there's just no scene at all, and we're trying to get something started," Jenny Meier said.
In part, that's because couples dancing - at least the kind Lindy Hop falls under - has been losing popularity throughout the decades, the Meiers said.
"It's just kind of gotten lost," Jenny Meier said. "The kind of dancing that's a structured, social partner dancing is just nonexistent if you're just out at a bar.
"It's a type of social connection that's just a different form of communication."
Ideally, the two said they'd like to establish swing dancing nights at a bar or restaurant in town, with live music. Jenny, who is part of the Steamboat Dance Theater, said she has heard some interest from Steamboat's active dance community.
No dancing experience is needed to attend the workshops, which are $20 for couples and $15 for individuals. Outside shoes aren't allowed in the studio, so wear something clean with smooth soles.