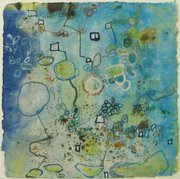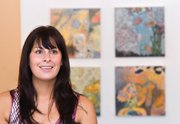 Past Event
Friday, November 2, 2007, 6 p.m. to 8 p.m.
K. Saari Gallery, 837 Lincoln Ave., Steamboat, CO
Not available / Free
Steamboat Springs — Crafting Steamboat Springs into a cultural entity is a no-brainer, gallery owner Kimberly Saari said.
"We're all in this together, and we're all fighting for a cultural entity in Steamboat," said Saari, whose K. Saari Gallery opened earlier this year on Lincoln Avenue downtown.
"We just need more venues, and they're slowly starting to pop up."
Saari's gallery presents FUNKY First Friday tonight in conjunction with the Artists' Gallery of Steamboat, with a reception from 6 to 8 p.m. Childcare by Artfuel will be available next door to the gallery at Epilogue Book Co.
By aligning her opening receptions with the Artists' Gallery - which has been starting shows on the first Friday of each month since it opened a year ago - Saari hopes to create a monthly "art walk" event.
Art walks are common in towns and cities that will support them nationwide, offering a unified cultural experience to both locals and tourists. Saari said the event was popular in Richmond, Va., where she went to graduate school and worked as a curator.
There are more galleries in Richmond than Steamboat, but Saari said the concept behind the event, and its benefits, are the same.
"I don't think that the number of galleries really matters, it's more important to have great works," Saari said.
As more galleries crop up, each has developed its own "different flavor," Saari said. Her space is geared toward contemporary work, the Artists' Gallery represents 26 individual styles, the Depot has a diverse crew of member artists and the Steamboat Art Museum has made a mission of preserving art relevant to Northwest Colorado.
"I've known the caliber of art in Steamboat since I moved here. It just stunk because there wasn't really anywhere to show it," Saari said.
And while it's still in the developing stages, the art walk idea seems to be catching on.
"It would be a really good step to getting our art community to be a little bit more of a cohesive group," said Sandra Sherrod, founding director of the Artists' Gallery.
"Everybody's been kind of on their own, and we're really trying to make this an art destination."
Constant change
Sherrod said she has met with Linda Laughlin, interim visual arts director for the Steamboat Springs Art Council, about getting several galleries and businesses involved in an art walk to take place in early December.
With a straight line of galleries from the Depot on 13th Street to the Steamboat Art Museum on the corner of Lincoln Avenue and Eighth Street, Saari said there's more of a chance for a coherent art walk now than there has been in the past. She also predicts more galleries and art will pop up in the near future.
"In the next couple of years, we're just going to see a major change - there's too many people in this town that care about art too much," Saari said. "It's got to happen, too many people care in this town for it to not happen."
In her FUNKY show, Saari presents work by Laura Wait and Diane Cionni, both of whom create constantly.
"These are established artists that take their art very seriously," Saari said. "They don't just show things to show things." This works for Saari, who gets uncomfortable if a show hangs on her walls for too long.
"That's my favorite part about this business, is the dynamics and changing my environment constantly," she said.
"I kind of look at it as giving back to the community by giving them new works by great artists."