Photo Gallery
Downtown Halloween Stroll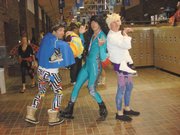 Steamboat Springs — There's no town like Steamboat Springs for Halloween.
"It's geared toward it, and we're trying to foster that," Laura Bischoff, owner of Steamboat Kids, said during the 26th annual Downtown Halloween Stroll on Wednesday evening.
"In a town like this, with a Halloween like this, we just can't help but have fun," Bischoff said, dressed as Dorothy from the "The Wizard of Oz."
"And we get to see all our little customers all dressed up."
Lincoln Avenue was closed from Fifth to 10th Streets for the family-friendly event. From 5 to 7 p.m., employees of downtown businesses handed out candy to kids of all ages.
Costumes ranged from adorable - small children dressed as duckies - to the politically-minded couple dressed as Bill and Hillary Clinton as hundreds crowded the street for the fall tradition.
Brandy Patrick outfitted her young twins, Jayden and Jasper, as Thing One and Thing Two from Dr. Seuss' "The Cat in the Hat."
"We do a theme every year, and that one, since we have twins, sounded like a good idea," Patrick said.
Bonnie Porter's 2-year-old triplets were dressed as superheroes - Henry as Spiderman, Christopher as Batman and Kyle as Superman.
"They wanted to be superheroes, and we wanted them to each look different even though they're triplets," Porter said, dressed as Princess Fiona from the "Shrek" movie franchise. Following the same theme, her 4-year-old daughter was dressed as Supergirl, her oldest son was Harry Potter, and her husband was Shrek.
While most businesses gave out candy by the handful, some gave out more menu-specific treats: French fries at Johnny B. Good's Diner and children's books at Epilogue Book Co.
This year, Epilogue gave out 5,000 books in five categories, from baby to teen. Dressed as Winnie the Pooh and standing alongside four employees outfitted as characters from The Hundred Acre Wood, Epilogue owner Erica Fogue said the store bought 2,000 more books to hand out this year than last.
"Parents love it, and the kids surprisingly love it. They look forward to coming and getting their books," Fogue said. "It's definitely the highlight of our year."