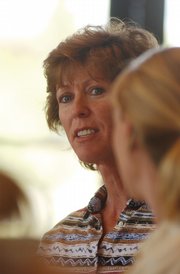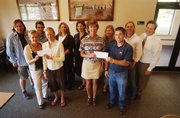 On the 'Net
For more information on Impact 100, visit www.yvcf.org.
Steamboat Springs — There is power in numbers.
Inspired by a desire to give back to the Yampa Valley, a group of adults in their mid-20s to mid-40s formed Impact 100 as a way to donate time and money to nonprofits in the area.
On Wednesday, at the end of its first year as a philanthropic organization, Impact 100 awarded its first checks.
Partners in Routt County received $6,000, and the Northwest Colorado Dental Coalition received $3,500. The Rocky Mountain Youth Corps and Born Free Wildlife Rehabilitation also received $500 from Impact 100.
"I would say it's more of a gift than a grant," Impact 100 steering committee member Avrom Feinberg said.
Impact 100, headed by Lisa Brown of the Yampa Valley Community Foundation, is an example of a giving circle. A giving circle usually involves a group of friends who pool their donations and decide together how to use their money to benefit various causes.
"Giving circles are tremendously popular," Brown said.
Impact 100 is capped at 100 members, but a family can count as one member. Each member who contributes a minimum donation of $150 is invited to join and receives a vote as to how Impact 100 should spend its donations.
This year, the inaugural year, Partners received the largest cash gift.
"Our demographic was interested in reaching out to kids," said Impact 100 steering committee member Erica Gallagher.
Partners is a nonprofit organization where youth in Routt County are paired with older teenagers or adult to provide additional positive role models in the children's lives. The pair does activities together such as bowling, watching movies and camping.
Partners also places school-based mentors in the county's public middle schools to give middle school children another positive adult to speak to during school.
Libby Foster, executive director of Partners, said the money gifted through Impact 100 would help bolster the school-based mentor program.
"It was really fun," Foster said of the easy application process, which consisted of a presentation in an informal setting. "It felt good that the community was so interested."
Janet Pearcey appreciated the informal process because she is new to the Dental Coalition and was "so nervous" before her presentation. The Northwest Colorado Dental Coalition, currently based in Craig, is close to opening a service in Steamboat. The coalition offers dental care to uninsured residents. Services are basic to complex, but the focus is on assisting children.
"It makes dental care accessible to those who otherwise would not have care," Pearcey said. "We are now seeing adults. Impact 100 aided us in being able to branch out, but the main focus is on kids."
Impact 100 includes residents of various demographics, but everyone was in agreement they would like to expand the program in its second year.
The steering committee is hoping to find more opportunities for Impact 100 members to volunteer with nonprofits, and steering committee member Beth Bishop said Impact 100 is hoping to find corporate sponsors willing to match private contributions next year.
"I think the (Yampa Valley) Community Foundation did a good job supporting the growth and nurturing of the program," Impact 100 member Dan Foley said.
The YVCF helped manage the fund.