Scott Stanford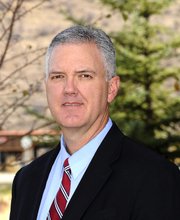 Scott Stanford is general manager of the Steamboat Pilot & Today. Call him at 970-871-4202 or email
sstanford@SteamboatToday.com
Steamboat Springs — We always seem to have a lot of turnover in the newsroom of the Steamboat Pilot & Today this time of year.
Many of our newsroom employees' start dates are in May or June. I don't have a scientific explanation, but my best guess is that it has to do with the closing of the mountain and college graduation.
This year is no different. Tomorrow, we will say goodbye to a reporter many of our readers have gotten to know well - Melinda Mawdsley. After five years at the Pilot & Today, Melinda is headed for Grand Junction, where she will be a features writer for the Daily Sentinel.
Melinda was the third person I hired as editor of the Pilot & Today. (Danie Harrelson and Christine Metz were the first two.)
Melinda came to the Pilot & Today after graduating from the University of Iowa and interning for The Sporting News. She started here as a sportswriter and has covered just about every sports event imaginable, from the Steamboat Marathon to Sailors football; from Nordic combined skiing to the state wrestling tournament.
She also has covered plenty of news events. Last year, we sent her to New Orleans with a team from the Hayden Congregational Church working on hurricane relief. Last summer, we moved her into a role as our education reporter. She has done a great job of handling what has become one of our most challenging beats.
I have mixed emotions when reporters leave the newspaper. On one hand, I'm excited to see them advance their careers. On the other, I know how much the newspaper will miss their contributions, their experience and their knowledge. Anyone who has been around Melinda will tell you she has the ability to light up a room - she's funny, friendly and warm. She's enthusiastic and energetic. It's not easy to replace such a personality.
I wish Melinda well in Grand Junction. She knows the door is open anytime she wants to come back.
There are a couple other changes in the newsroom worth mentioning.
n Matt Stensland, who has spent the past year covering business and Hayden, has moved into a new role as a videographer and Web producer for our Web site, steamboatpilot.com. Matt does the daily video updates that appear each morning on Steamboat TV18 and steamboatpilot.com. He also will be gathering news video daily for the Web site and putting together other multimedia packages. E-mail Matt at mstensland@steamboatpilot.com
n Allison Plean, who has spent the past year as the arts and entertainment writer for the Pilot & Today, has moved to our graphic arts department as a designer. We are seeking her replacement.
We have three new reporters who will start next week.
n Brandon Gee will replace Stensland as the reporter covering business and Hayden. He is a graduate of DePauw University in Indiana who interned at The Portland Oregonian, the Evansville (Ind.) Courier and The Wall Street Journal. E-mail him at bgee@steamboatpilot.com or call 871-4210.
n Mike McCollum will replace Mawdsley as the education and environment reporter. He has a bachelor's degree from Auburn University and a master's degree in journalism from the University of Colorado. McCollum interned at The Denver Post. He has spent the past year as a reporter for a daily newspaper in Columbus, Miss.
n Morning Glory Farr is our summer intern. Farr is a graduate of Missouri State University who is pursuing a master's degree in journalism at the University of Colorado. She will take a lead role in arts and entertainment coverage until a full-time replacement for Plean is named.
The staff changes might make for some confusion for our readers about who to contact on certain subjects. You can always contact me if you need someone to point you in the right direction.