Sam Bush added to lineup
Bluegrass legend joins Free Summer Concert Series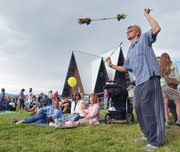 How to help
If you are interested in helping organize or run this year's Free Summer Concert Series, or for more information, contact Barb Vargas at: (970) 846-3352, or e-mail iambvargas@gmail.com
Steamboat Springs — Free. Summer. Concert.
Any time those three words are together, you're talking about good times.
This year's Free Summer Concert Series, which features five shows at the base of Howelsen Hill, kicks off Wednesday, June 20 with a reggae performance by The Wailers. The series continues with the "gospel-fried funk" and rock band Mofro on July 13, Texas rockers Los Lonely Boys on July 27, bluegrass mandolin prodigy Sam Bush on August 8, and a fifth, to-be-announced performance.
Bush is the most recent addition to the impressive summer lineup. A legend who has spent the past two decades playing with the likes of Emmylous Harris and Lyle Lovett, Bush is sure to thrill the Steamboat Springs crowd with his "newgrass" style of extended rock grooves and boot-stompin' picks.
"We always look for a variety of artists for the purposes of the wide demographic of ages," series organizer John Waldman said. "And we try to rotate artists. If they played here before, we try to give a few years before we bring them back."
While the concert series has rotated between Howelsen and the base of Steamboat Ski Area in previous years, the 2007 series will be held exclusively at Howelsen due to extensive construction on and around Mount Werner.
Concerts will begin at 5:30 p.m. The main act typically begins at 6:45 p.m., said co-organizer Joe Kboudi of All That Jazz in downtown Steamboat.
In its 15th year, the Free Summer Concert Series has grown significantly - often drawing crowds in the thousands.
"The free concerts have become a staple of Steamboat summer with the high quality of acts," Waldman said. "It's a way to give back to the local community."
Vendors will sell food, drinks and beer. There will be a children's area at the venue. Dogs and alcohol will not be allowed into the concert area.
The 2006 series included performances by Matt Costa, Susan Tedeschi, Chicago Blues Reunion, Los Lobos and Michael Franti and Spearhead.
The city of Steamboat Springs sponsors the series along with other local contributors.
"It lives on local and corporate sponsors, and all of the concessions go back into it," Waldman said. "It's a nonprofit way to create a fun musical experience for everyone."