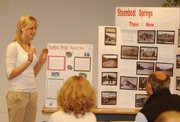 Steamboat Springs — It's hard to imagine what you'll get when you let loose a group of high school seniors to pursue their own educations.
On Wednesday, seven Steamboat Springs High School seniors stood in front of a panel of parents, teachers and community members to present their final Senior Project, a self-directed career elective alternative.
The seven projects included working as the editor of Teen Style for the Steamboat Pilot & Today, creating a business plan for a downtown Irish pub and photographing some of Steamboat Springs' most historic buildings.
For Kim Mayer, the former Senior Odyssey teacher and current Senior Project instructor, watching her students make their final presentations was bittersweet.
"These projects were all about the students taking ownership of their own learning," she said. "I think they got incredible value from this experience; it was more real life for them."
The Senior Project replaced the high school's mandatory Senior Odyssey program, which required all seniors to participate in classroom learning as well as an internship. Senior Project was an optional project that required students to propose and develop a project, work with a mentor and create a portfolio of journal entries and presentations.
Senior Project will not continue next year due to a lack of interest. It will be replaced with Internship, which will allow students to participate in a structured internship.
Senior Patricia Henderson, who sewed a "crazy quilt" purse, said she would encourage her fellow classmates to participate in the program after reflecting upon her own experiences.
"My project really helped me learn who I was, what I like to do," she said. "My advice would be to do something new, something you're interested in, even if you don't know how to do it."
Senior Andrew Riley agreed.
"Senior Project was very important to me, being that it was the 'spark' that I needed to jump into another area of learning, the area of business," he said.
Riley, who wore a kilt to his presentation Wednesday, explained to the panel his business plan for opening "The Shamrock Pub" a fictitious bar in downtown Steamboat Springs.
"When I started this project, I didn't know anything about business," he said. "This was all fresh out of the box for me."
Mayer said challenging the students to explore new areas was one of the goals of the program.
"I'm devastated the program is gone because it was a choice for the students to become active learners instead of someone handing them a syllabus and saying, 'This is what you're going to learn,'" she said.
The senior projects included:
Erin Gleason: Worked as the editor the Teen Style section of the Steamboat Pilot & Today.
Courtney Adamo: Created a live Web site for her art business, Sky Sketch Portraiting.
Anna Anderson: Completed a veterinary medicine internship.
Patricia Henderson: Created a "crazy quilt" purse.
Haley Morris: Photographed historic buildings and landmarks in Steamboat Springs.
Andrew Riley: Created a business plan for an Irish pub.
Kristin Toy: Wrote a medical research paper entitled "The Molecular Causes of Neural Tube Defects."