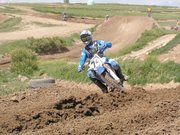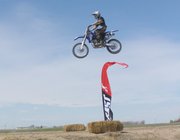 Hayden — Vance Fulton couldn't keep his son Ben off a motocross bike forever.
"When I was little, I always wanted a dirt bike, watching the races on TV, so my dad said I had to wait until I was 13," Ben Fulton said. "But he gave in at 12."
As far as the younger Fulton is concerned, it wasn't a moment too soon. Fulton wasted no time mastering the basics and started racing last summer, where he surprised himself by winning the open beginner class at one of the first Rocky Mountain Motocross Association races that he competed in.
"I was happy because I thought I would do OK, but didn't know I could win in the first few," Fulton said.
Now, the 14-year-old Hayden resident has made the move up to "bigger bikes and older kids," racing in a series of 20 RMXA-sanctioned events that run across the state and into Wyoming from late February to early October. Racing in the novice 250cc "School Boy" division, Fulton knows he will have to continue improving on his steep learning curve if he hopes to hang in a division with amateur riders as old as 16 and if he hopes to reach his goal of landing in the top 10 season rankings in both the 250 stock and modified classes.
Fortunately, Fulton doesn't have to go far to practice. He has a motocross course in his backyard where he can practice his turns, working with his father and fellow Hayden RMXA racer Hunter Hayes, a 19-year-old who races in the College Boy division.
"Straight-aways and ramps, I've got down. I've just got to work on my starts out of the gate," Fulton said.
The practice has paid off. Fulton needed to get a pair of top-12 finishes (among fields of 40 racers) at five qualifying races for hopes of a berth to the National Motosport Association Grand National Championships July 22 to 28 in Ponca City, Okla. Fulton did exactly that at a couple of early April qualifiers in Milliken.
When Fulton practices, it's with the mindset of jockeying past kids two years his senior for a shot of making the top 40 national finals.
"It's the thrill of racing - trying to get a good start and staying on two wheels," Fulton said.