Craig resident qualifies for gymnast nationals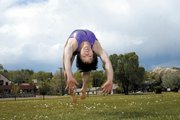 Craig — The sport is called TnT, and Rochelle Johnson is dynamite at it.
The Moffat County High School senior, who's competed in tumbling and trampoline gymnastics for eight years, qualified to compete as a Level 9 in the national competition in June.
The Tumbling and Trampoline Gymnastics National Championships are held in Memphis, Tenn., from June 20 to 28.
"You put all your hard work and effort into it, and it really pays off," Johnson said about making it to nationals.
She grew up competing in cheerleading and artistic gymnastics. She then made the switch to TnT in part because it was easier on her body.
This is second time she has qualified to compete nationally in TnT, but she wasn't able to travel last year because of financial reasons.
"I'm really excited," Johnson said. "My family is doing fundraisers so I can go."
There was a chili dinner at Thunder Rolls Bowling Center on Sunday. On Saturday and June 9, there will be a car wash at KFC/Taco Bell. Also, there will be a pancake breakfast at St. Michael's Catholic Church on Sunday.
Next year, Johnson plans to compete as a Level 10 gymnast.
Johnson is a member of CSTT SkyRaiders, a gymnastics team based in Colorado Springs and coached by Kelly Cooper.
On the road to nationals this year, Johnson placed third in her region while competing in Fort Worth, Texas.
She plans to study criminal justice after high school and eventually use gymnastics as a positive reinforcement for children.
"Rochelle is a good goal setter for herself," her mother, Ellen Johnson, said. "She sets a goal for herself and goes after it."