Under Construction
Read more about how
downtown and base-area construction
is transforming Steamboat Springs.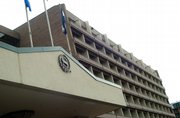 Steamboat Springs — A major - and long anticipated - property sale at the base of the Steamboat Ski Area was sealed last week.
Starwood Hotels, one of the world's largest hotel and timeshare companies, has purchased the Sheraton Steamboat Resort hotel and the Sheraton Steamboat Golf Club for just less than $57 million, according to May 24 records filed at the Routt County Clerk and Recorder's Office.
"I think it's great," said David Baldinger Jr. of Steamboat Village Brokers, who was instrumental in setting up a funding mechanism to redevelop the base area. "It shows that there is a lot of interest in Steamboat right now."
Multiple messages left with Starwood officials in White Plains, N.Y., were not returned Tuesday. Sheraton Steamboat Resort General Manager Chuck Porter said he could not comment on the sale.
As of Tuesday afternoon, Starwood had not posted any information about the sale on its or the Securities and Exchange Commission's Web sites. Shares of Starwood are traded publicly on the New York Stock Exchange under the symbol HOT.
Starwood has about 850 properties in more than 95 countries, according to the company's investor relations Web site. The company employs about 145,000 people.
Starwood bought the hotel and golf course from Ski Time Square Enterprises, which was made up of six individuals. Starwood also had an equity interest in the partnership. Starwood has also had the management contract for the Sheraton Steamboat Resort.
It was announced in July 2006 that the holdings of Ski Time Square Enterprises were for sale. They included the 315-room Sheraton hotel, Ski Time Square Commercial Buildings, Thunderhead Lodge and the Graystone Park subdivision. The 11.3-acre residential subdivision sold in April for $5.1 million. Also last month, Washington, D.C., developer Cafritz Interests announced it had purchased the ski-in, ski-out Thunderhead Lodge and Ski Time Square commercial center for their redevelopment potential for $53.9 million.
The sales came shortly after the $265 million sale in March of the Steamboat Ski Area from American Skiing Co. to Intrawest.
Baldinger said he is curious to find out what Starwood's short- and long-term plans are for the hotel.
"This was probably one of the last available assets at the base area that was publicly for sale," Baldinger said.
The change in ownership of base area properties comes as work is being done on $23 million in base area improvements. That money was raised by establishing an urban renewal authority, or URA, to generate public dollars for improvement of public infrastructure at the ski area base.
Knowing who the new owner of the Sheraton is will be good as URA projects move forward.
"We now know who all the key players will be for the next several years," Baldinger said. "That's the most exciting thing about it."