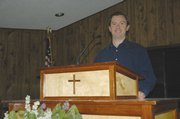 Kids 4 Truth
First Baptist Church will start a new children's program in the fall called "Kids 4 Truth." The goals of the program are to communicate 120 of the most important God-focused truths to children through a curriculum, a Web site, a clubs program and other printed and multimedia materials. The program is recommended for children ages 3 through 12. Visit www.kids4truth.com for more information.
Steamboat Springs — The last time Jason Clark took a dirt road to get to church was during a mission trip in Mexico, so the route to the First Baptist Church is somewhat symbolic for the new pastor and his family.
Located at 3200 Divine Way, First Baptist Church sits atop a hill overlooking the Yampa Valley from the end of an unpaved road. The family's parsonage is a 15-second walk from the church's front door, creating an ideal lifestyle for the Clark family of six.
"When I was 12, my family did a trip over the entire West, up to North Dakota and out to California," Clark said. "I remember it was early summer and we got over the mountains and I looked down on the Western Slope. I thought I would love to come back here someday."
Someday has arrived.
Clark, his wife, Melinda, and their children Andrea, 9, Jared, 7, Micah, 4, and Elianna, 2, moved from Wisconsin to Steamboat in late February so Clark could become the new pastor at First Baptist Church.
"That was all of God," Clark said.
Clark does not know how former First Baptist Church Pastor Myron Glatz received his resume, because Glatz does not remember how he got it. But Glatz helped the First Baptist Church find Clark, and for that Clark is thankful.
"It was really word of mouth," Clark said. "That was kind of exciting."
The son of an Air Force pilot, Clark was born in Georgia and raised in Texas, Oklahoma and Ohio. He went to high school in Michigan, college in Wisconsin and seminary in Minnesota. He and his wife's parents are from the East.
"My background is varied, so is Steamboat's," Clark said. "We were excited to see how God would enable us to fit into this community and culture."
Jared takes tae kwon do lessons. Andrea is part of the youth tennis community. Melinda teaches the children at home because the family arrived mid-year. The family even saw a moose during the move. Talk about acclimating quickly.
"We saw four deer up here, and the kids got all excited," Clark said. "We have a resident fox, but I don't think they've named it yet."
At the church, Clark is excited about the upcoming renovations to the building, including new carpet and a new wall behind the pulpit.
Clark said every pastor is different, and he prefers to teach through a whole book in the Bible before moving on. He is now teaching in the book of Colossians.
Sunday's services are more traditional with music and a sermon. Sunday evening's service is geared toward Christian principles on issues such as relationships and finances. Wednesday's service revolves around prayer.
"I'm trying to see what needs to be done in this community," Clark said. "Our goal is to help people know Christ and have a relationship with God that is real."