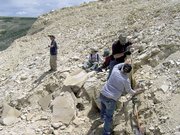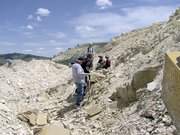 Steamboat Springs — While celebrating his seventh birthday, North Routt resident Kody Kenyon found a crocodile that could be millions of years old and worth a small fortune.
Doug Kenyon of North Routt said he and his wife, Amy, traveled to Wyoming during the holiday weekend with Kody and Nicholas Zinn, 7, also of North Routt, to look for fossils at a quarry in the Fossil Butte National Monument area of the state's southwestern corner. The National Park Service describes the area as a "50-million-year-old lake bed (that) is one of the richest fossil localities in the world."
What the Kenyon family found turned out to be a lot more than arrowheads or fish imprints.
"Rock hounding is kind of our family activity," Doug Kenyon said Tuesday. "We have a rock polisher going almost constantly at the house. ... For Kody's birthday, he wanted to go up to Fossil Butte in Wyoming and hunt for fossils."
So the family hired fossil guide George Putnam of Creative Creations to take them into a new quarry in the national monument near Kemmerer, Wyo.
Joined by family friend Francesca Allen, 8, of Casper, Wyo., the group began splitting sandstone panels and searching for fossilized imprints.
"It was like Christmas every time we split a rock open," Doug Kenyon said, adding that the group had no trouble finding fish fossils of all kinds.
But then Santa brought a bigger present, in a spot just behind where the group had been searching.
"Kody and Amy suddenly began finding all these bones," Doug Kenyon said.
At first, Putnam thought the animal was a mammal. But the bones kept coming. Soon the group realized it was looking at a massive crocodile.
"It was about a nine-footer. That's extremely rare," Doug Kenyon said. "They pretty much sealed off the quarry at that point."
Neither Putnam nor quarry officials could be reached Tuesday. But Kenyon said he was told depending on the condition, such a large, fossilized crocodile could be worth up to $500,000 from "deep-pocket collectors."
The Kenyon family won't see any of that money - or any more of the crocodile. Doug said the group signed waivers before entering the quarry, which could now be closed for six to eight months while officials privately excavate the area.
"We weren't allowed to keep any of it, but it was quite a find," he said.
And Kody and Nicholas, first-graders at North Routt Community Charter School in Clark, had quite a story for their friends after the long weekend.
"We had a great time just finding fish, and then that happened," Doug said. "The kids were pretty much the rock stars of the quarry for the rest of the day."