Mike Lawrence
Call Mike Lawrence at 871-4203 or e-mail
mlawrence@steamboatpilot.com
.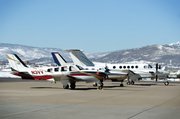 Steamboat Springs — The Steamboat Springs City Council has spent $1.38 million on consultants since January 2006. That's a big number.
Is it too big, or are these studies setting a foundation for thoughtful growth and city planning that will ultimately save taxpayer dollars - and Steamboat's sense of community - in the future?
The answer depends on whom you ask.
City Manager Alan Lanning arrived at the number earlier this month after creating a list of consultants and associated costs at the request of City Councilman Paul Strong.
"I had people saying to me, 'Can you guys do anything without a consultant?'" Strong said Tuesday.
The council has hired at least 18 consultants in the past 15 months, to study topics including a new recreation center, uses of Steamboat Springs Airport, economic development, urban design standards, downtown streetscape improvements, historic structures, affordable housing, local open space, sustainability management and a regional sports complex.
Strong requested the full list of consultants at a council meeting May 1. Lanning handed it to the council May 3 during a noon meeting where the council convened as the city's Liquor License Authority.
The consulting issue most recently arose with the city's $439,000 hire of Britina Design for a downtown streetscape study and engineering plan.
Jim Weber, the city's director of public works, said the downtown streetscape will be "the bulk of his work" for the next two years. He said Britina was hired because of the firm's experience designing improvements for Erie, Arvada and Eagle - improvements that are portrayed in a massive binder on Weber's desk. In flipping through the pages, it's hard not to get excited for the future of Lincoln Avenue and Oak and Yampa streets.
This kind of input and foresight seems logical given the stakes, but the question is where to draw the line.
"It seems to me we've done a lot of studies and spent a lot of money: That's a complaint about government at all levels," Strong said. "Of course the reality is, if you don't have good information to make decisions, people will second-guess you later on. In some ways, it's the nature of the beast."
Maybe the beast is different for Routt County or Craig.
Dan Strnad, the county's finance director, had a hard time Tuesday finding comparable numbers for the county's consultant hires.
"Right now, I'm having a hard time thinking of anything we have that would even fall into that category," Strnad said.
While the county has spent heavily for engineering and architectural consultants on projects such as the Routt County Justice Center and terminal expansion at Yampa Valley Regional Airport in Hayden, the city of Steamboat also has spent for engineering studies - an additional $1.32 million since January 2006.
Lanning put those figures into another category in his list. Base area redevelopment studies, planning and legal counsel tally an additional $1.52 million for the city.
Adding the three categories means the city has spent more than $4.2 million on all kinds of consultants since January 2006.
Strnad said that in a quick, cursory look, he could not find any county-hired consultants that fell into what he called "the wishy-washy category" of future planning.
The only example Strnad found was Vision 2030, a public policy study funded by $38,500 each from the city and county. Vision 2030 is not on Lanning's list, likely because it is a group of local citizens rather than a non-local consultant.
In Craig, City Manager Jim Ferree said the city this year is funding an $80,000 transportation study, an $8,400 community survey and a $15,000 evaluation of the city's pool system.
Craig has spent more than $1 million since 2006 for consulting on upgrades to the Craig Wastewater Treatment Plant, but those funds fall into the engineering category.
Ferree noted that Craig's total budget is about $13 million, far less than Steamboat's projected 2007 expenditures of more than $47 million.
Strong said the studies are worthwhile if they are used for their intended purpose.
"To me, the issue isn't so much what the number is as (opposed to) what are you accomplishing," Strong said. "If you're going to commission a study, then you better know what you're going to do with it when the results come in."