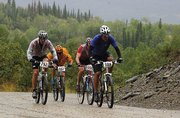 Series schedule
5:30 to 6:40 p.m. - Start times tonight, Howelsen Hill
June 13 - Mt. Werner Thunderhead Hill Climb
June 27 - Howelsen Hill X-C
July 11 - Mt. Werner
July 25 - Howelsen Hill
Aug. 1 - Howelsen Hill
Aug. 15 - Buffalo Pass Hill Climb
Aug. 24 - Mt. Werner
Steamboat Springs — The trails dry and the competition begins.
As soon as Steamboat Springs Town Challenge Mountain Bike Series director Gretchen Sehler had marked the course for the series' first race, which will be held this evening at Howelsen Hill, she said prospective racers were training on the singletrack.
"I was out there last night on the course," Barkley Robinson said. "It's definitely something I look forward to and it's a great series to get out with your friends and peers, bringing the whole town together."
Robinson said the competition has gotten tougher every year. He said the growing ranks of skilled teenage riders keep the fastest riders honest.
Racers for the series are divided into 22 divisions. They also are divided by gender, age and four skill level groups, from novice to sport, expert and pro/open.
"Even the eight-and-under kids are as focused and agro as any of the racers," Sehler said. "It cracks me up with the serious faces they have on - they want to win as much as (Robinson)."
The cumulative series point totals, which encourage riders to race the season in the same division, contribute to the unique camaraderie.
"Everybody gets along and by the end of the season, you get to know all the guys you're racing with," series regular Mark Bosley said.
The course lengths get progressively longer according to age and skill level. At Tuesday's race, this means the youngest competitors will be racing a short 2/10-mile course at the base of Howelsen Hill while the pro/open division will take two laps (roughly 10 miles) on a challenging course from the Howelsen base up Mile Run, down Lupine Trail and out the Bluffs Loops.
"The best way to get in shape is just to get out there and race," Robinson said.
The Howelsen Hill Circuit course variations and lengths depend on race divisions. The youth divisions will start at 5:30 p.m., from the Howelsen Hill Lodge with adult times staggered through 6:40 p.m. Start times and course maps can be viewed at www.townchallenge.com or at the Parks, Open Space and Recreational Services offices, 245 Howelsen Parkway. Registration ($12, $7 for youth) can be paid at the Parks and Rec. office until 5 p.m. today, otherwise on-site registration costs $16 or $11 for youth.