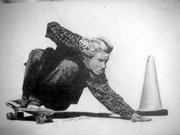 Steamboat Springs — For Steamboat Springs High School senior Courtney Adamo, the human face is one of the most expressive and alive subjects an artist can work with.
Adamo, 17, who is graduating Saturday, spent her senior year developing a business, Sky Sketch Portraiting, and a Web site as part of her Senior Project.
"I've been drawing since forever," she said last week.
Adamo began dabbling in portraits during high school, where she refined her skills and began doing free portraits for her family and friends.
"Photographs don't speak to you," she said. "Portraits do. They weave a story."
That principle is what compelled Adamo to create a business Web site to market her art. Sky Sketch Portraiting was inspired by her dog, Sky, and her home in North Routt County.
"I live in Hahn's Peak Village, which is really high up there in the mountains and close to the clouds," she said. "It fit."
On Wednesday, Adamo will present her Senior Project to a group of judges and her family as the last step in completing the yearlong assignment.
From the project, which was voluntary for seniors this year, Adamo learned that becoming an entrepreneur can be a challenge.
"I learned a lot about business," she said. "Starting a Web site is really hard. I definitely learned what it takes to start one and keep it going."
Adamo is leaving Steamboat Springs in August to complete another year of high school in France through the Rotary Club's student exchange program but intends on keeping her business going.
"Shipping and handling might be more expensive, but I'll still be drawing if people want me to," she said.
Adamo's client base has grown to include "a lot of parents who want to have their kids done" and some of her teachers' families.
"I really like how alive faces are," she said. "Faces have so many characteristics."