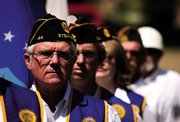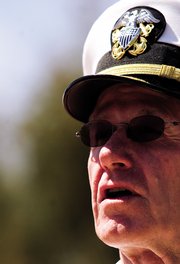 In remembrance
Cass Sisto, a home-schooled high school junior, has created a Web database that documents the burial sites of Steamboat Springs veterans. Access the database through the www.yampavalley.info site on the Web. From the site's home page, open the "Community Information" box and click the "History & Genealogy" link. On the next page, scroll down to "Genealogies" and click the "Database of Deceased Steamboat Springs Veterans" link.
If you have a question about records on the database of veterans buried at Steamboat Springs Cemetery or would like to access the original burial records, contact the Yampa Valley Funeral Home, located at 2095 Curve Court in Steamboat, at 879-1494.
If you are a relative or close associate of any veteran on the database and would like to add or change information, or if you would like to add new local veterans, please contact Jim Stanko, Funeral Board director of Steamboat Springs Cemetery, at 879-3936.
Steamboat Springs — Monday's annual Memorial Day ceremony was an occasion to remember the past, respect the present and honor the future.
A crowd of more than 100 attended the event, held under sunny skies at Steamboat Springs Cemetery on U.S. Highway 40 west of downtown. Jim Stanko, district commander for the American Legion and post adjutant for Veterans of Foreign Wars Post No. 4264 and American Legion Post No. 44, said the ceremony was a day to especially remember local veterans of World War I, which the United States entered 90 years ago, military personnel currently serving in the Middle East and local youth - such as Boy Scout Troop 144 and Civil Air Patrol cadets - who currently are serving their communities. The Boy Scouts and cadets stood at attention during Monday's event and placed American flags to honor fallen veterans.
Evan Weinman, a fifth-grader at Soda Creek Elementary, drummed a solemn marching beat as various corps members gathered in formation around the cemetery's veterans' memorial.
Nine Steamboat Springs residents died during World War I. Two of the nine are buried in the Steamboat cemetery: Guy Utter, who died in the Battle of Verdun, and James Noyce, Steamboat's first aviator. Noyce was killed during a training mission.
The bodies of the other seven World War I veterans did not return home. They are Charles Baer, Wesley Gifford, Dr. Robert Gilmore, Leo Hill, George Lawson, Marcy Meaden and Raymond Whitmer.
Stanko also cited the importance of local veterans not killed in action.
"They not only helped preserve our heritage and freedom, they came home and helped build this valley," Stanko said.
The uniform of World War I veteran Claude Luekens was on display at Monday's ceremony. Luekens served as mayor of Steamboat for 16 years and as a Routt County Commissioner for 23 years. Lueken's U.S. Army uniform, donated by his family, is permanently on display at the Tread of Pioneers museum on Oak Street.
State Sen. Jack Taylor, dressed in full U.S. Navy regalia honoring his service from 1957 to 1960, spoke about veterans who served in the military throughout America's past.
"It's very important to thank all of our veterans for the role they have played in our history," said Taylor of Steamboat Springs. "And it's important to remember our active veterans as well."
Taylor said Steamboat Springs Cemetery contains graves for 12 veterans of the Civil War, two from the Spanish-American War, 69 from World War I, 106 from World War II, 24 from the Korean War, 23 from Vietnam, 10 from the Cold War era and two from the Persian Gulf.
Their names were on display at the cemetery Monday, in framed documents that are kept all year at the Veterans of Foreign Wars post on Lincoln Avenue.
Many of Monday's crowd spontaneously sang along with "America the Beautiful" and "My Country 'Tis of Thee," before a 21-gun salute fired into the air and the solitary bugle notes of "Taps" rang across the field.
"This patriotic spirit will kindle the spark that will continue to make our country great, and will make the United States of America truly the land of the free and the home of the brave," Stanko said.
- To reach Mike Lawrence, call 871-4203
or e-mail mlawrence@steamboatpilot.com