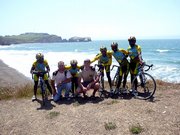 Steamboat Springs — Hope.
Everyday Ryan Scheer and Andrew Johnston see five parcels of it pedaling around, showing that Rwanda's isn't just a country defined by genocide.
Whether it's under the sun in New Mexico or traversing over the Golden Gate Bridge and across the Pacific coastline, Scheer and Johnston got a lot more than they'd hoped for when they trekked into their latest project.
Scheer, a 2002 graduate of Steamboat Springs, and Johnston, a 2001 graduate, are currently filming five Rwandan cyclists trying to qualify for the 2008 Beijing Olympics.
While the project offered exposure to the mainstream market, both former Sailors said the documentary has taught them much more.
"It's as much a culture shock for them as it is for me," Johnston said from San Francisco on Friday morning. "It's amazing. They're the most laid back guys. They never seem upset. They're always smiling and having a great time. They came from nothing and lost so many people. Yet a bad day doesn't exist to them."
Fate.
Inevitably it brought them together. While they hadn't discussed it in high school, Scheer and Johnston's experience the next three years would set them up perfectly to start their business.
Scheer had left college for Los Angeles to work in the film business. Johnston had accepted a corporate job in Indianapolis after graduating from the University of Colorado with a business degree.
"It's funny, we never planned having our own company in high school," Scheer said. "I always pictured him in the corporate world and me in entertainment world."
But the glitz and fast life of Los Angeles had worn on Scheer and Middle America was a lot different than Johnston was used to.
The two talked about starting a company and did so earlier in the summer called Lucky Rabbit Films based in Austin, Texas.
"I do all the business, he does all the filming," Johnston said. "It's a really good mix."
Opportunity.
When it came, Johnston and Scheer pounced on it. Their friend offered them a chance to follow five aspiring Olympic cyclists from Rwanda around as they trained in America.
"It's the coolest project," Scheer said. "It's funny we can actually call it work. It's a project that has the opportunity to change the world."
The two hooked up with Tom Ritchey, the founder of Project Rwanda - an economic group working to provide bicycles as a symbol of hope for Rwanda and set out on a 40-day trip following the Rwandans around not knowing what to expect.
Life-changing.
That's how both describe the project. Initially they weren't sure what to expect from the Rwandans. They knew they were meeting five guys who all lost family in the 1994 genocide that claimed more than 800,000 Rwandans. Just a day into the trip, they got five guys who were beaming symbols of change and hope.
"You hear Rwanda and you think genocide," Scheer said. "You wonder are they going to be happy, bland or angry. They showed up and they were goofing off. It opened my mind to no matter where you are in the world youth is so much alike. You can go through a living hell and still smile."
The project hasn't just been about filming. For the five Rwandans, it's the first time they've been to America. Only one speaks English. Scheer and Johnston said despite the difficulty communicating, the Rwandans are five normal guys.
They love airplanes and technology. They like to cook pasta and after a recent trip to Foot Locker, they look more like a rap group than a cycling team with brand new jump suits and Jordan's.
"Really, it's like hanging out with the guys back home," Scheer said. "It's amazing how much you can communicate without language. They're all our age and they're all fun."
Future.
Scheer and Johnston aren't sure what it holds, but they know they're better prepared to head into it. So far, the project's taking them from New Mexico to Arizona and then up to California. The two will travel over to Africa in July for the African Games and then to South Africa in August in for a 10-day stage race.
Of course, if things go really well, the two will be in Beijing in 2008.
They hope to have the documentary out in late 2008 or early 2009.
Either way, they said, they wouldn't trade this experience for anything.
"These guys are a story about life," Scheer said. "They love it and cherish it. It's an eye opener. They see life day-by-day. They don't dwell on the past. The one word we think of is hope. No matter how bad things get you always have hope."
For more information about the project, visit www.luckyrabbitfilms.com or www.projectrwanda.org.