Downtown busy despite construction
Under Construction
Read more about how
downtown and base-area construction
is transforming Steamboat Springs.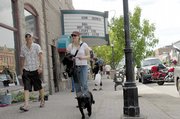 Coming up
What: Keep on Truckin' children's event, featuring hands-on activities with all kinds of large trucks
When: Saturday, 10 a.m. to 1 p.m.
Where: Howelsen Park
Cost: Free
What: Farmers' Market, featuring local foods and goods
When: Summer Saturdays beginning June 16, 8 a.m. to 2 p.m.
Where: Routt County Courthouse lawn
Contact: Call Tracy Barnett, program manager for Main Street Steamboat Springs, at 846-1800 for more information on all of the above events.
If you go
What: Construction Kick-Off Party and hard hat auction, a fundraiser for the Steamboat Art Museum, featuring live music by Three Wire and the summer's first Steamboat Car Club cruise & show
When: Thursday, 4:30 to 7 p.m.
Where: Routt County Courthouse lawn, on Lincoln Avenue in downtown Steamboat Springs
Cost: Free
Steamboat Springs — Construction in downtown Steamboat Springs isn't stopping locals and visitors from shopping or strolling on Lincoln Avenue during the Memorial Day holiday.
"It's been a really good weekend," Matt Cardille, owner of Fuzziwig's Candy Factory at 845 Lincoln Ave., said Sunday afternoon. "Ice cream is definitely our top seller - it's beautiful out."
Many people took advantage of the sunny weather to get out and about Sunday, as crowds filled restaurant patios, sidewalk tables, stores and parks on a busy day downtown. Doug and Jo Smith of Westminster, who live in Steamboat part time and said they come to town "as frequently as possible," shared a double-scoop ice cream cone from the sidewalk window at Johnny B Good's Diner. Steamboat residents Ben and Rita Walker took a moment to check out the artfully decorated hard hats on display at Steamboat Art Museum.
The hard hats, donated by local construction companies and decorated by local artists, will be displayed at the museum until Thursday, when they will be moved to the Routt County Courthouse lawn for the Construction Kick-Off Party. The event, from 4:30 to 7 p.m., will feature live music and a 6 p.m. auction for the artsy hard hats.
The event will kick off a busy summer for Main Street. The organization is promoting a petition to form a business improvement district to fund downtown infrastructure improvements and maintenance, partially sponsoring a Saturday youth event featuring hands-on activities with large trucks at Howelsen Park, gearing up for the weekly farmers' markets that begin June 16 and also advertising a "bootcamp" program for local business owners.
A year ago, the local Main Street group brought business expert Jon Schallert to Steamboat, where he talked about destination business creation before an audience containing much of Steamboat's business community. Tracy Barnett, program manager for Main Street, has announced that this year, Main Street is organizing attendance for Schallert's two-day Destination Bootcamp for business owners, to be held Sept. 25 to 27 in Longmont.
Barnett said applications need to be submitted by June 15. More information on Schallert and what the Destination Bootcamp entails can be found on the Web at: www.jonschallert.com. Cost for the workshop is $1195 per person.