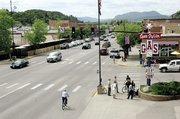 On the 'Net
Learn more about Britina Design Group, the Arvada consulting firm hired to design improvements to Steamboat's downtown streetscape, on the Web at: www.britina.com
Steamboat Springs — City officials have selected a consultant for a $439,000 project to revitalize downtown Steamboat Springs.
Jim Weber, city director of public works, said Britina Design Group of Arvada has been hired as the lead consultant for the city's Downtown Streetscape Improvements Plan, which will "address and identify the future character of the downtown commercial district : including Lincoln (Avenue), Yampa Street and Oak Street from Third Street to 13th Street." Funding for the plan will come from the city's general fund, Weber said.
The plan will include elements such as increased trees, improved curbs and sidewalks, new streetlights and trash receptacles, more signs highlighting city attractions such as Howelsen Hill and better benches, bus stops and bike racks. The plan also could suggest locations for a future downtown parking garage, public restrooms and the removal of parking spaces on one side of the street to widen Lincoln Avenue.
Britina has designed downtown streetscapes for Front Range municipalities including Erie and Arvada and currently is designing a streetscape for the Western Slope town of Eagle.
"They have a lot of experience with similar projects," Weber said of the firm.
DuBord said the cost is appropriate given the size and scope of the downtown improvement project.
"This is more than just a study - there is actual engineering that will be done as well," Deputy City Manager Wendy DuBord said. "This is an area about five or six times the size of the base area redevelopment."
Weber said he hopes to take construction bids for downtown improvements in January and February 2009.
"A year from now, we need to have ideas in place for the Lincoln corridor," he said.
Weber said the city's Mountain Town Sub-Area Plan, adopted in 1999, spurred the need for downtown design improvements.
The plan identified the base of Steamboat Ski Area, the U.S. Highway 40 corridor and downtown as three distinct areas for design upgrades. The city implemented its Urban Renewal Authority at the base area in 2005 to fund public improvements that began with an official kick-off earlier this month. The city currently is working with Denver-based consultants Clarion Associates and Civitas Inc. to improve design standards along U.S. 40 at entryway areas into Steamboat.
Weber said the numerous construction projects slated for downtown also are driving the need for new, unified design standards. Projects totaling more than 2 million square feet are slated to break ground in the Steamboat Springs area this summer.
Downtown design improvements will be coordinated with the Colorado Department of Transportation, which will conduct asphalt work on Lincoln Avenue in 2009.
The downtown improvement process will involve significant input from the community, although Weber said no timetable or schedule for public meetings with Britina has been set.
Questions regarding downtown design standards should be directed to Weber at 871-8243 or jweber@steamboatsprings.net.
To reach Mike Lawrence, call 871-4203
or e-mail mlawrence@steamboatpilot.com